Most of us have a travel bucket list, right?
Well, at the top of mine was 'Visiting Morocco.'
Many of my friends and relatives had toured this wonderful country and all of them had great things to say about it. 
Plus, I was fascinated by the culture, architecture and history of the place.
So when hubby dearest asked me where I wanted to go on holiday, I immediately said:
"Let's travel to Morocco!"
But instead of touring the entire country (which would have meant constant traveling), we wanted to focus on just one destination – this way, we figured we'd be able to have a nice and relaxing holiday and really enjoy it to the fullest. 
So we flew there during the month of November and actually ended up staying in Marrakech for a total of 9 days.
Needless to say, we enjoyed every bit of our vacation!
Now while on tour, I decided to maintain a travel diary of sorts.
And once we got back to London, I sat down, arranged all of my notes and photos in order and then decided to publish this blog.
Please note while this isn't meant to be a comprehensive visiting Marrakech travel guide, I do hope you find this post useful and most importantly, enjoy reading it. 🙂
** DAY 1 – MONDAY 
Touching Down In Morocco + Checking In To Hotel Belleville
We drove to Gatwick Airport (a 1.5 hr drive from our place) and then took an EasyJet flight to Menara Airport in Marrakech, Morocco.
It's a quick journey (just over 3 hours) which was great for us, especially since we were traveling with our little guy!
Upon touching down, what immediately impressed me was the beautiful architecture of the airport building.
It looked simply magnificent against the backdrop of the charcoal night sky and served as a great introduction to Moroccan architecture.
It actually looked even better during the day because you could see every single detail more clearly.
As soon as we exited the airport (since we were a family, we got to skip the long queues, hoorah!), we were greeted by our taxi driver and escorted to the cab (which we requested the hotel to arrange for us).
The drive to Hotel Belleville (one of the best Marrakech riads) was short and in around 15 mins, we stopped just outside an alleyway. 
A staff member, Badr, and his friend Younes, greeted us warmly and then guided us through a series of narrow alleyways to where the hotel was.
After freshening up and relaxing for a bit, we headed upstairs to the rooftop lounge to have dinner (which we arranged to be had on arrival).
Sidenote: Hotel Belleville offers a limited lunch/dinner menu with meals cooked by Saida – one of the female members of their staff.
The menu we ordered was around 95 MAD per person and consisted of chicken tagine with bread, pastries and salad. Free bread and mint tea was also provided, along with oranges and cinnamon for dessert.
I'm so glad we decided to dine in on our first night in Marrakech because the meal we were served was absolutely delicious!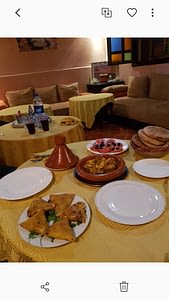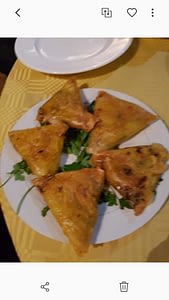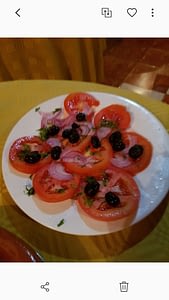 The onion and tomato salad was fresh and tangy and topped with a handful of juicy black olives. The fried pastries had a vegetable and noodle filling and were pretty tasty too.
The real star though was the chicken tagine, which was superb. Perfectly seasoned and a generous quantity to boot. Yummy!
PS. Sorry about the poor picture quality of some of the photos – the lighting was dim and I grabbed 'em in a hurry with my phone!
** DAY 2 – TUESDAY 
Jemaa El-Fnaa – Intense, Yet Oh So Interesting!
After a good night's sleep, we woke up early for breakfast which is served at 8 AM – 10 AM.
Btw, breakfast is complementary and included fluffy pancakes, crispy parathas, butter, cheese, 2 jams, bread, orange juice and coffee.

And while it's quite a spread and always served with a smile by two lovely ladies Saida and Touria, the dishes are the same every day.
So if you're staying at the hotel for a fairly lengthy period of time like we did, it can start to get repetitive, although the ladies will graciously make you fried eggs, if you put in a request.
Still, I can't really complain because breakfast's included for free in your reservation. 🙂
After brekkie, we headed outside to wander about the Jemaa Al Fna square – just a stone's throw away.
And boy, was it crowded!
If you're not used to noisy places, it can be somewhat of an assault on your senses the first time around.
From the sea of people jostling about…to the numerous motor bikes weaving in and out…to the snake charmers constantly blowing their flutes…to the vendors hawking their items…the square is a cacophony of noise.
That doesn't mean we didn't enjoy it though.
Quite the opposite in fact.
Once your ears get used to the decibel levels, it's actually a very interesting place to explore!
For lunch, we decided to drop by one of the cafes close to Hotel Belleville.
The entire meal unfortunately was pretty meh.
The beef tagine hardly had any beef in it and tasted pretty horrible. The chicken shawarma plate was bland. And the chicken pastilla was just alright.
Oh well!
Later in the day, the hotel suggested taking dinner at a nearby place – Riad Omar – a 10-min walk from where we were staying. We opted for the set menu costing 180 MAD each and eagerly looked forward to tucking in.
However, not only were the breads super dry (out little one refused them too and he usually loves bread), the chicken tagine lacked flavor and the salads were simply woeful.
In hindsight, we should have turned back when we saw the restaurant was practically empty. 
Sidenote #1:
During our stay in Marrakech, this was also the most expensive meal we had.
Sidenote #2: We learnt that some of the other hotels in the area were also recommending their guests dine at Riad Omar. And while some folks have had a decent dining experience there, for the the vast majority (including us), it wasn't all that positive.
In fact, you're better off trying out the street food restaurants in the souk or opting for your hotel's in-house dining menu (which is usually prepared home-cooked style).
** DAY 3 – WEDNESDAY 
Exploring Marrakech Souks + A Visit To Bahia Palace
After another hearty breakfast freshly prepared and served by Saida and Touria, we spent the entire morning exploring the souks in Marrakech and had a great time getting lost in the many winding alleyways.
Btw, one thing you've gotta watch out for are the motorbikes. On this particular morning, we had to quickly jump out of the way of at least 10 motor cycles!
Every now and then, you'll also have to clear a path for various carts (pulled by men or donkeys).
So yeah, you've gotta keep your wits about you when checking out the souks. 
It's all good fun though and there are plenty of goods to admire and purchase including leather items, pashmina shawls, painted plates and traditional Moroccan lamps.
On our way back, we stopped for some orange juice at the square.
There are loads of fruit juice sellers and you can go up to any one of them and order whatever tickles your fancy – they'll get to work squeezing every little bit of juice from the fruit and then serve it up in little plastic cups.
The orange juice that we had was sweet and very refreshing – perfect after a morning spent wandering about in the glorious sunshine!
For lunch, we chose to have lunch at the hotel (which was prepared by Sadia). And needless to say, it was superb!
First off, the chicken pastilla was wonderfully crispy and buttery, packed with a delicious minced chicken filling and topped with just the right sprinkling of icing sugar.
The tomato, onion and olive salad was fresh and well seasoned and the beef tagine well cooked.
However, while the latter tasted good, I'd recommend avoiding it mostly because you only get about 4 small pieces of beef.
To be fair to the hotel, this seemed to be the case everywhere else too. So it's probably better to stick with the chicken tagine instead because you usually receive a much more substantial portion.
Among our list of 'Things to do in Marrakech,' was visiting a historical attraction in the area.
So in the evening, we headed to Bahia Palace, which was a mere 15 min walk from our hotel.
Sitting on over 2 acres and featuring 150 beautifully decorated rooms (including a closed-off harem that opens out into the lovely, sun-drenched courtyard), this magnificent structure is the perfect place to check out if you're a fan of history and culture.
Built in the late 19th century, the palace has been very well preserved and is a masterpiece of Moroccan and Islamic architecture. 
In fact, the name Bahia means 'brilliance' in Arabic and as soon as you arrive at the site, you realize it's a fitting name indeed.
We were told that it's one of the most popular historical places to visit in Marrakech, so do make it a point to drop by if you're vacationing here! 
Btw, the Bahia Palace entrance fee was 70 MAD (nearly £6) for each of us.
Apparently, it's a lot less for the locals. Anyway, our trip here was worth the price, so we ain't complaining.
On our way back, we stopped by a fruit juice stand and had 2 glasses of incredibly refreshing pomegranate juice. 
Later on, for dinner, we bought takeaway from Snack Adam, a local cafe located a few feet away from Hotel Belleville.
The food was cheap and tasted great and the portion size was generous too. This eatery was definitely going on our list of best restaurants in the Marrakech medina!
** DAY 4 – THURSDAY 
Where To Buy Argan Oil In Marrakech, Morocco
After brekkie, we chillaxed on the rooftop terrace for a while and chatted with some of the other guests that were staying at the hotel.
Afterwards, we decided to pop into the office of the tour operator nearby as we were keen on taking a couple day trips from Marrakech and wanted to explore our options. They're actually located right next to our hotel, so it was super convenient for us.
Btw, you'll find loads of local travel agencies in the souks and in the square – just pick any one of them and have a chat with the agents to obtain more details and find out about prices.
TIP: To make sure you don't get ripped off, always ask staff members at the hotel you're staying at for their advice and recommendations before you go out and make any reservations.
In our case, the owner of the travel agency next door was friends with Badr and Abdurrezak (staff members at Hotel Belleville) and offered us a discount for a day trip to Essaouira from Marrakech.
So instead of charging us 600 MAD, he agreed to charge us 400 MAD (£33) each instead. Our little one went free.
After confirming our booking, we made a stop at Snack Adam for lunch, ordered takeaway and enjoyed it on the lovely rooftop terrace at our hotel.
The food we bought – 2 portions of chicken couscous – was seasoned well and very filling.
In the evening, we headed to Herboristerie Firdaous – a store that's known for selling top notch Moroccan Argan oil.
Located on the second floor of Galerie Essalam (a small shopping mall of sorts), this tiny shop stocks a wide range of soaps, argan oil and various other essentials oils. 
Sidenote: Before coming over to the country, I did plenty of research on where to buy pure argan oil from Morocco and Herboristerie Firdaous kept popping up in many reviews.
And for good reason too. They are one of the few places in the area that offer superior quality products, as opposed to the many fake varieties sold by many street sellers in the souks.
Obviously, their prices are slightly higher, buy hey, you get what you pay for!
When we went in, there was a smiling lady at the counter (Saida) who was very welcoming and took the time to explain the origin and benefits of many of the items they had available.
After our friendly chat, I browsed their collection for a while before purchasing several bottles of Argan oil as well as some handmade Argan soap.
Everything cost me around 508 MAD (£42) and I walked out a satisfied customer.
I'd certainly recommend Herboristerie Firdaous as the best place to buy argan oil in Marrakech.
On the way back to the hotel, we made a quick stop at a fruit juice stand and once again, had 2 refreshing glasses of fresh pomegranate juice. The seller was an extremely friendly chap who happily posed for a photo for us!
For dinner today, we had another meal at the hotel. It was chicken tagine again – and while it was tasty – it didn't quite match the flavor of the version we had upon arrival. Bread, pastries and mint tea was also included.
Also, I've gotta say: while the food at the hotel was a tad more pricey than the stuff we bought from Snack Adam, they had that awesome home cooked quality to it that we really enjoyed!
After a satisfying meal, we relaxed for a while longer in the rooftop lounge room, before calling it a night, excited for our day trip to Essaouira on Friday!
** DAY 5 – FRIDAY 
A Fantastic Day Trip To Essaouira From Marrakech
We were supposed to be at the lobby at sharp 8:30 AM, so after an early breakfast, we scurried downstairs to find our travel agent waiting for us.
He escorted us to the square where there was a large group of tourists milling about and then ushered us into one of the minibuses parked nearby.
Then at around 9:15, we finally pulled away from the square and began the 2.5 hr drive to Essaouira.
Along the way, we made two brief stops – one to take snaps of goats on argan trees and the other at an argan oil cooperative.
When we arrived, the women that worked here were busy extracting oil from the argan nuts, which was an interesting process to watch.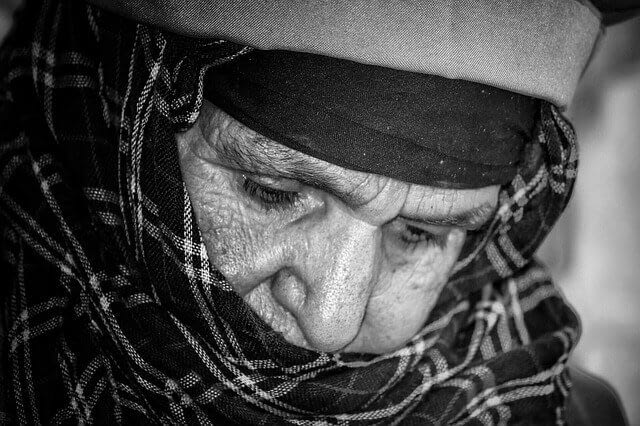 After the brief demonstration, you can purchase argan oil and a wide range of other beauty products from the gift shop.
Keep in mind though that the prices here can be more expensive than in Marrakech.
On the other hand, the women working here are usually divorced/widowed and this is an opportunity for them to earn a livelihood.
After spending about 20 mins at the cooperative, we got back into the minibus and continued our journey, reaching Essaouira at just past noon.
All of us were dropped off at a central location and asked to return to the point at exactly 4 PM, giving us approximately 4 hours to explore the place.
Something you notice right away is that the place is far less noisy and crowded than Marrakech.
Plus, the atmosphere is definitely a lot more laid-back over here. Being a coastal city, the weather is also slightly cooler with a gentle sea breeze blowing across the square.
Alright, talking about the things to do in Essaouira…
Well, we started off by taking a leisurely stroll around the medina.
Compared to Marrakech, it's smaller and a lot easier to navigate, so it only took us a couple hours to explore the area. 
Oh and to our relief, there weren't too many swerving motorcycles to dodge, ha!
Loads of well-fed cats around though. 🙂
Btw, if you're keen on doing some souvenir shopping, you may want to wait until you get to Essaouira before buying, as some of the items here are cheaper than in Marrakech.
Additionally, you'll find many of the goods marked with fixed prices, so there isn't a lot of room for bargaining, although you can always request the vendor to knock off a few dirhams off the total, especially if you're purchasing multiple items.
I managed to snag an ornamental wooden box, 2 beautiful wooden trays and a lovely, pastel colored shawl for myself. 🙂
After shopping around, we stopped by to dine at Restaurant La Tolerance – one of the best restaurants in Essaouira that specializes in seafood dishes (although meat and vegetarian options are also available). 
We had the 90 MAD set menu which included stuffed sardines for starters, following by fish tagine for our main meal and orange with cinnamon for dessert. We also ordered grilled sea bream which cost 80 MAD.
So how was the food, you ask?
Well, the fish tagine was pretty underwhelming because it lacked flavor. 
The sardines and sea bream on the other hand, were fresh, perfectly seasoned and tasted delicious!
Free bread and mint tea was also provided.
Our tummies full, we then made a beeline towards the Skala du Port ramparts, which offer fantastic views over the town and harbor.
After spending some time enjoying the scenery and taking plenty of photos, we then made our way down to the beach for a long walk in the sand, followed by a quick snack at one of the stalls that serve freshly caught seafood grilled over charcoal.
Yum!
By this time, it was already 4 PM and we swiftly headed over to our meeting point, where sure enough, our driver was waiting.
After everyone else had climbed aboard, we started the drive back to our hotel.
Along the way, we stopped at a cafe for refreshments and tea, before continuing on our journey and finally arriving at our destination at 7:30 PM, slightly tired but happy that we experienced a great Essaouira day trip from Marrakech.
For dinner, we decided to try out the food from a little takeaway shop located right opposite Snack Adam. 
The place doesn't really have a name, but is massively popular amongst locals and is always super busy at nights, which is always a good sign, right?
And after a quick look at the menu, we ended up ordering chicken buns (basically large buns packed with an onion, cheese and minced chicken filling).
The buns were extremely reasonably priced and SUPER DELISH, although if we were being picky, we would've preferred a tad more salt n spice in the filling.
But that's just us.
If you like your food less spicy, you'll probably be completely fine with it. 
Anyway, hubby and I enjoyed the food so much, we both agreed that this little shop was certainly one of the best places to eat in Marrakech.
**DAY 6 –  SATURDAY 
Patisserie Des Princes, Marrakech  
Today, we decided to have breakfast in bed because…well, why not? 🙂
It was a nice spread as usual and after a filling meal, we headed to the rooftop lounge for some light reading.
In the afternoon, we hopped into a tuk tuk and made the short trip to Aswak Assalam – a local supermarket – and stocked up on some snacks for our little one.
And while our shopping experience here was pretty standard, queuing up at the till (they didn't have self-service checkout) was a bit of a nightmare. Mainly because people kept cutting in front of us. :/
After standing patiently for about 15 mins and watching others jumping the line, our LO (little one) finally got impatient and started fussing big time. Hubby then urged staff members to control the queue  and everything was alright afterwards!
Moving on…
When lunch time rolled around, we were wondering where to eat in Marrakech and so asked one of the staff members, Abdurrezack for his suggestions.
He recommended an eatery a few feet away from the hotel and told us he was a regular customer there himself.
Yup, that's what we wanted to hear alright.
This place too had no real sign board although locals simply call it 'Abdul Lateef,' (we later learned that a guy by this name manages the takeaway).
Anyway, we bought some chicken and beef curry buns which were filling and rather tasty. 
Sidenote: We realized that street food in Marrakech, while delicious, generally lack salt and spice, so make sure you politely request for these to be added/increased.
Then boom!
Your taste levels rise dramatically and you'll be swiftly transported to food heaven. 🙂
In the evening, we spent a couple hours strolling around checking out the best souks in Marrakech.
It's always a fairly intense and extremely interesting experience, no matter how many times you've done it before.
We also stopped by at La Patisserie Des Princes (known as the best patisserie in the area) located a few feet from the square.
When we went in, it was already packed with customers eagerly snapping up their favorites from the temptingly laid out range of sweets, cakes and pastries.
We quickly picked out two different kinds of sweets and had it boxed for take away.
Once we got back to Hotel Belleville, we sampled the desserts. They were lovely – great in taste, not too sweet and very similar to the classic pastries you'd find at a high street cafe in France. 
For dinner, we had takeaway from Snack Adam and the little shop opposite it. The food was delicious as usual. Portion sizes were generous too! 
** DAY 7 – SUNDAY
What To Buy In Marrakech + Horse Carriage Ride
If you're wondering what to take home as souvenirs, you're in for a lovely headache. 🙂
I say this because there are soooo many things to choose from.
And while prices are generally higher here, if you really take the time to look around, you can definitely pick up some good bargains in Marrakech souks.
Along with luxurious Moroccan rugs, exotic spices, stunning Moroccan lamps, beautiful pottery, handcrafted wooden trays and multi-colored Moroccan slippers, a great item to pick up is shawls.
More specifically, pashmina shawls.
So after breakfast, I dragged hubby along to do some shawl shopping, heh!
By the end of the morning, I was armed with a good collection of eye-catching, high quality pashmina shawls and they didn't cost much either (mostly because I purchased several colors and so got the vendor to reduce the price).
In the evening, we decided to take a ride around the city in one of the numerous horse carriages found in the square. We paid around 150 MAD for a 30-min ride, which our hotel advised us would be a fair price.
They also warned us that most drivers would quote nearly 300 MAD (just like our driver did initially), but if you politely refuse and remain firm on 150 MAD, they'd quickly settle for this price.
OK, on to the ride…
While it was mostly a very enjoyable experience, I couldn't help but feel a little guilty about the way the horses are treated.
Why do I say this? Well, around 10 minutes into the ride, one of the horses pulling our carriage actually stopped in the middle of the road and refused to budge.
Perhaps it was tired and wanted to rest?
Anyway, the driver immediately started whipping it repeatedly to get it to trot again.
The horse began moving but stopped once again after a few minutes.
Of course, this infuriated our driver even more and he swiftly got down and began kicking the poor animal in the hooves.
Obviously, we were upset at this and wanted to alight right away.
However, just before we could do so, both horses began trotting again and there were no more hiccups during the rest of the ride.
At the end of our journey, we paid an extra 10 MAD (in addition to the 150 MAD) and urged the driver to use the extra money to give the animals a treat.
So…would I take another ride in a horse carriage?
I'm not sure, to be honest.
Maybe if they're being well looked after. 
** DAY 8 – MONDAY 
Fantastic Ouzoud Waterfalls Day Trip 
Want some ideas on what to do in Morocco?
Here's a great suggestion:
Go on a day trip to Ouzoud waterfalls – the largest waterfalls in the country!
Once again, we booked this trip with the travel agency next to the hotel.
This time around, we were quoted 600 MAD each, but negotiated it down to 400 MAD per person (excluding our little guy).
Having had another early brekkie, we headed to the square and hopped into a minibus full of tourists before setting off on our journey just after 9 AM. 
After around 2.5 hrs on the road (with a break for refreshments), we arrived at the location and were greeted by a local guide. 
He was a jovial chap who introduced himself as Farzan and then began leading the way to the bottom of the falls.
It took all of us around 1.5 hrs of walking (with frequent stops at various points for pictures and rest) to reach our destination.
Btw, you've gotta be in pretty good shape to undertake this expedition, especially with the sun beating down on you.
Plus, our LO refused to walk so we had to take turns carrying him down. Not easy I tell ya! (In hindsight, we should've brought a carrier).
But you know what, you quickly forget all about your fatigue the instant you set eyes on Ouzoud waterfalls.
It's simply majestic and you can easily spend a good 20-30 minutes admiring its beauty!
Next, we clambered on to a colorful boat that would take us even closer to the falls.
The ride costs 20 MAD (per adult) and lasts for about 20 mins.
It's completely worth it in my opinion because being able to get a close up view of this beautiful form of nature is just brilliant.
Afterwards, we proceeded up a set of stairs to have lunch at one of the cafes facing the falls.
Hubby and I opted for skewered chicken kebabs which were juicy and full of flavor.
Bread, fries, olives, salad, oranges and mint tea were also provided for free, so we were more than full by the time we finished our meal.
After lunch, we headed up to take another look at the Ouzoud waterfalls from a different viewpoint.
Farzan, our guide, offered to help carry our LO, which we gratefully accepted.
Along the way, you're also given an opportunity to feed and pose with monkeys, which we skipped.
After a further 20 min trek back up the mountainside, we reached our pick up point and got into our tour bus once again.
All in all, it was a pretty tiring but thoroughly enjoyable day trip from Marrakech.
Sidenote: This is one of the best places to visit in Morocco, so if you're in pretty good physical shape, do include Ouzoud waterfalls in your itinerary.  
Alrighty, let's talk dinner.
This time around, we had chicken liver and cow brain curry buns from the popular local eatery opposite Snack Adam.
Yeah, you read that right.
Cow brains.
Hubby's a fan.
I chose chicken liver. 🙂
And the buns tasted awesome as always. Plus, they're super filling and insanely good value for money.
If you're visiting Morocco and planning on sampling some street food of Marrakech, definitely make a stop here.
** DAY 9 – TUESDAY
Koutoubia Mosque + More Shopping
This was going to be our last full day in this wonderful country and we still had a little bit of sightseeing and shopping left to do.
So after breakfast, I whipped out my 'Where should I go in Marrakech?' list and realized we had forgotten to visit Koutoubia Mosque – the largest mosque in the area.
Also, since it was only a 12-min walk from the hotel, we didn't want to pass up the opportunity to view the place.
And I'm sure glad we decided to drop by!
The mosque is a tall, imposing structure and the architecture is really beautiful – a common theme in Morocco actually.
There's a huge courtyard in the front as well as a lovely spacious garden at the back, with plenty of benches where visitors can sit and relax. 
In the evening, we went shopping in the souks once again. I purchased even more colorful pashmina shawls and eye catching scarves, along with a few other trinkets. 
Afterwards, we headed back to our hotel and started packing for our flight back home! 
** TUESDAY – DEPARTURE
Flying Out Of Morocco 
After one final hearty breakfast at Hotel Belleville (which based on our experience, is one of the best places to stay in Marrakech), we bid adieu to the two smiling ladies Saida and Touria and then took our luggage to the lobby downstairs, where Abdurrezack was waiting for us.
He escorted us to our taxi (which he had arranged for us the previous day) and then waved goodbye as we pulled away from the square and headed to the airport.
1.5 hours later, our EasyJet flight took off the runway with the stunning Atlas mountains in the backdrop.
We were leaving this country with plenty of fond memories of our stay and fully plan on visiting Morocco again for another fantastic adventure!