Ouarzazate is a pretty popular destination in Morocco.
Known as the 'Gateway to the Sahara,' it's used as a stopping off point for visitors heading to the desert.
But the city is also well known in the international film industry.
In fact, several Hollywood A-listers (such as Oscar-winning director Martin Scorsese and actors Cate Blanchett and Brad Pitt) have spent considerable time here, working and enjoying all that the region and the areas surrounding it have to offer.
The best part is, it isn't that far from the Red City, so if you're looking to take a day trip from Marrakech to Ouarzazate, know that it's entirely doable.
But perhaps you're keen on exploring the area and plan on staying over for a couple days or so?
Great!
That's where this guide comes in.
You're going to discover all of the things to do in Ouarzazate including the best dining spots and which riads/hotels to book with, so you can make sure you have an enjoyable stay!
Alright, let's dive right in…
Disclosure: Some of the links below are affiliate links, meaning, at no additional cost to you, I will earn a commission if you click through and make a purchase. Thank you for your support!  
First Off, How Do You Get To Ouarzazate? 
Well, you can either visit this destination as part of a tour from Marrakech or you can go the DIY route.
While the former is a lot more convenient, the latter can be more budget-friendly.
Btw, in addition to traveling via car or bus, you can also come by plane as the airport here welcomes directs flights from Zagora, Paris and Casablanca.
Search on Skyscanner to snag the best flight deals.
If you want to shave off a couple hours from your total journey time, you can rent a car and drive to Ouarzazate.
Obviously, this also gives you the freedom to stop whenever and wherever you want to – and trust me, you'll want to take your time crossing the Atlas mountains because the scenery is absolutely breathtaking.
Go here to compare car rental deals.
Going by bus from Marrakech to Ouarzazate
The cheapest way to get here is by bus.
And although it can take around 5 hours, there's a stop along the way for a toilet break and either lunch/dinner. 
You can purchase tickets either from Supratours or CTM – both services are very reasonable (the latter charged around £5 each way) and pretty reliable.
Side note: There are plenty of hairpin bends to navigate, so if you're someone who tends to get travel sick, you might want to carry some tablets (or anything else you use) with you.
Ouarzazate Weather – What's It Like?
Given its proximity to the Sahara, the weather here can get extremely hot, especially during the summer.
So the best time to visit Ouarzazate is in Autumn or early Spring when the temperature dips and it becomes just right – dry and warm, with limited chance of rain.
The evenings can still get pretty chilly though so it's probably a good idea to pack in some sweaters and coats.
Things To Do In Ouarzazate
There's a lot more to this city than magnificent ancient kasbahs and the grand sets of iconic movies.
In addition to an abundance of souks, markets, cooperatives and souvenir shops to shop in, there are plenty of outdoor adventure activities you can indulge in including hiking, biking and quad biking, so there'll be tons to tick off on your bucket list!
Go for a leisurely stroll
Most of Ouarzazate's shops, restaurants and cafes are at Avenue Mohammed VI, Place Al-Mouahidine, Rue de la Poste and 3rd of March Square.
Go for a walk in these areas and drop by at a pastry shop or eatery to sample some delicious food, relax and experience the city's lively evenings.

The local stores on the market road opens at around 6 AM and has loads of goods available from exotic spices, to colorful clothing and beautiful handcrafted items.
If you'd like to check out the surrounding towns, head over to Errachidia and Tinehir – they're well known for their attractive pottery and lovely silver jewelry.
This side of town offers visitors a better insight into the lives of locals.
Take a leisurely stroll in the alleyways lined with mud brick houses and observe the natives going about their day – you're bound to see many of them carrying breads and pastries to be baked at the community oven.
You'll also see kids enjoying a game of football on the streets and pass by old gentlemen sitting on steps, sipping mint tea and watching the world go by.
Side note: If you go to the Taourirt part of the Old District, you can admire the ancient fortified village that's still standing right in the middle of the city.
Fint Oasis and Tifoultoute Kasbah are ideal spots if you're looking for a relatively short hike.
On the other hand, if you're keen on longer hikes, the stretch of road leading to Ait Ben Haddou and Ounila Valley is incredible and takes you through lost Berber villages, rivers and desert mountains.
If you fancy doing some cycling, the ancient caravan route from Ait Ben Haddou to the splendid Telouet Kasbah is a fantastic course to follow.
Another great way to explore Ouarzazate and its neighboring towns is by renting a four-wheeler.
Quads Adventures is located just outside of Atlas Studios and they have all sorts of exploring equipment and vehicles available for hire.
What To See In Ouarzazate
A perfect example of Islamic architecture in Morocco, this once grand citadel used to be the official residence of Thami El Glaoui, Lord of the Atlas and pacha of Marrakech.
And although large sections of the kasbah are now dilapidated, some rooms have been painstakingly restored, revealing exquisite mosaic interiors.
If you're interested in history and architecture, definitely pay a visit.
It might be helpful to come with a guide though – they'll be able to show you around the ruins and help you have a better understanding of the rich and fascinating history of this place.
Fun fact:
Ouarzazate is also called 'Ouallywood!'
And at CLA Studios (where The Great Journey and Kingdom of Heaven were filmed), you'll be able to check out all kinds of awesome props and sets that were used in these movies.
You'll also find amazing recreations of places like Mecca and Jerusalem – pretty cool!
If you're a film buff (and have got some time to kill), head over to another famous studio in Ouarzazate – Atlas Studios.
Here you'll find the elaborate set pieces used in films such as Lawrence of Arabia, Babel, Asterix and Obelix: Mission Cleopatra and countless others.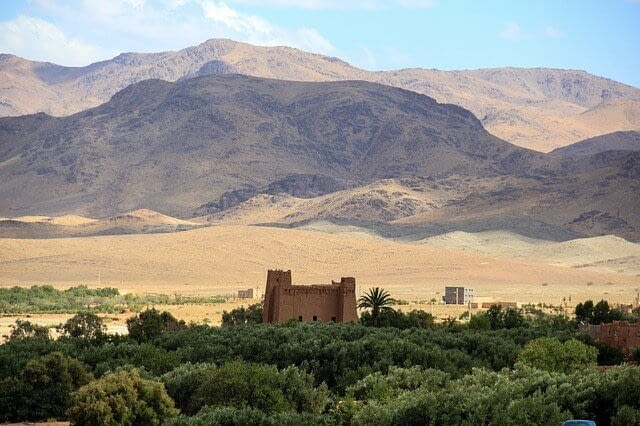 One of Morocco's most fascinating legacies of power and wealth exists inside Taourirt Kasbah.
Containing almost 300 rooms, this large and impressive citadel was built by the Glaoui although the main family never actually resided here.
Instead, it was inhabited by the families of several close relatives belonging to the Glaoui dynasty, along with more than a hundred servants, cooks and tailors.
The strategic location of the kasbah (on the sub-Saharan route) prompted many passing caravans to make frequent stops here and distribute gifts to the people as a goodwill gesture. It was also indicative of the Glaoui's power and strong hold over the South.
Also, while part of the restoration work that was being carried out on the citadel was destroyed due to heavy rains, the main courtyard as well as some of the main rooms have been decorated beautifully.
Once you're done exploring this section, walk along the winding corridors, make your way to the top floor and then head over to the prayer room for incredible views over Lake El Mansour Edhabbi.
Afterward, you can explore the village situated within the kasbah and check out the local crafts on display – and maybe even pick up some great deals for yourself!
Housed in a former studio, you'll find this quiet museum right opposite Taourirt Kasbah.
There's a great collection of old props, sets and cinematic equipment on display and movie geeks in particular, will enjoy spending time here.
By the way, this is a good alternative if you aren't planning on visiting one of the film studios located outside of town.
Attractions Outside Of Ouarzazate
A huge fortified city consisting of 6 kasbahs (all of which are protected by UNESCO), the impressive Ait Ben Haddou has been regularly used as the backdrop of several popular movies including Gladiator and Lawrence of Arabia.
Apart from its massive popularity as a background location for Hollywood blockbusters, there isn't a great deal to see here.
That said, you can spend an hour or so exploring the many winding streets and alleyways inside and climb the fortified granary at the top for some excellent views of the valley.
Oasis de Fint (Fint Oasis)
If Ouarzazate is known as the 'Gateway to the Desert,' this place located 10 km south, should be termed the 'Garden in the Desert.' You'd think it impossible that an area so lush and green and full of life can exist in a dry and desolate region, but exist it does.
Comprising 4 traditional villages, Fint de Oasis is a picturesque and idyllic destination where women still wash clothes in the river and donkeys leisurely roam about the streets.
And although it's not very well known outside of the country, several movies have been filmed here including Kingdom of Heaven, Prince of Persia and Babel.
If you're planning on staying overnight, make sure you attend one of the nightly musical shows – they showcase a lovely combination of Arab, African and Berber rhythms and are a great form of entertainment.
Many other activities can also be arranged including taking a spin in four wheelers, swimming and donkey excursions.
On the way back to Ouarzazate, don't forget to drop by at the Tifoultoute Kasbah.
It's a splendid ancient castle-like structure that's perfect for exploring. It also provides stunning panoramic views over the Draa Valley so be sure to take some snaps!
Encompassing a beautiful 125 km stretch of palm trees against a backdrop of windswept mountains, this area is a great example of the breathtaking beauty of oasis valleys.
Explore the laid back town of Agdz and watch how the rocks on Mount Kissane (Jbel Kissane) reflect different colors (from pink, salmon and violet) depending on the time of day and angle of sunlight. It's a fantastic sight!
Then venture out to Zagora's markets and sample some truly authentic Saharan treats and delicacies.
On the other hand, if you're a history and archaeology lover, head over to Foum Ziguid and spend some time examining the ancient fossils that are found on the rocky plains.
Whether you're driving, cycling or trekking, the journey from Ait Ben Haddou to Telouet is extremely picturesque – you'll pass plenty of pretty little Berber villages, crumbling, yet impressive kasbahs and many beautiful farming hamlets along the way.
Make a quick stop at Anemiter to stroll around a well preserved fortified village and then pay a visit to nearby Kasbah Tamdaght.
With an incredible landscape and medieval kasbahs, this area is a must visit!
No wonder Ridley Scott chose to feature it in Gladiator, the blockbuster Hollywood movie that was released in 2000 to critical acclaim.
Apart from soaking in the natural beauty of this place, you'll be able to watch shepherds pass by with their livestock and get an insight into the traditional and laid back Berber lifestyle out here.
Also, since Tamdaght Kasbah is only 6 km from Ait Ben Haddou, you can definitely slot it in as part of a day excursion.
Tinghrir Palmeries (and the Dades and Todra gorges)
While the palmeries at Todra, Tinghrir and Dades are all fantastic, the gorges are simply spectacular!
Marvel at the magnificent gorge walls that gradually close in on themselves in Todra or drive through winding mountain roads and survey the beautiful gorge formation in the Dades Gorge.
Additionally, if you're a hiking and/or climbing enthusiast, you're in for a treat because there are plenty of amazing trekking and rock climbing opportunities in these areas that you can take advantage of.
El Mansour Eddahbi Barrage
Known as a birdwatchers haven, you're bound to spot sightings of different species of birds in the desert including lanner falcon and black-bellied sandgrouse.
This area is also great for fishing and hiking, with the best times to visit being late August-November and March-May.
If you're looking for a desert oasis adventure, this is the place to head to.
For starters, you'll discover traditional oasis farming techniques and ancient water irrigation methods. You can also explore the beautiful palmeries here and visit ancient kasbahs lining the groves.
Next, stop by at Aoufous – a sleepy little village that's the perfect example of life in the oasis.
It's best visited in October, when the juicy dates of palm trees are in abundance!
Where Should I Eat In Ouarzazate?
Well, the food here is delicious and there's something for all budgets.
For instance, you can dine with the locals and stuff yourself with cheap, yet tasty and filling food for less than £4!
Side note: Check out El Bahja – they serve excellent food at very reasonable prices.
There are several restaurants, cafes and hole in the wall eateries at Ave Al Mouahidine, Place Mouahidine and Rue du Marche selling delectable buns and sandwiches, traditional Moroccan tagines and yummy pizzas at extremely inexpensive rates.
And if you're willing to give it a go, try braised cow hoofs and chickpeas – it tastes great!
On the other hand, if you prefer fine cuisine, there are many options to choose from including Jardin des Aromes and La Kasbah des Sables.
If you've got a sweet tooth and are craving something sugary, make a beeline towards the row of terrace cafes along Avenue Mohammed V, where you can indulge in fab French croissants and pastries alongside a refreshing cup of mint tea.
According to locals, this is a favorite spot among Hollywood film crews when they're in town. 🙂
The menu features a wide range of international dishes including Italian pastas, duck confit and fillet steak. And if you're in the mood for a glass (or two) of wine, the restaurant has a decent wine list you can choose from.
The roadside terrace and relaxing ambience just add to the pleasant dining experience.
Looking to spend a couples' night out?
This is the place you need to go to.
From intimate lounge areas to ambient lighting and tasteful decorations, the setting is perfect for a romantic dinner with your partner.
Of course, the food's great too and you'll find everything from tasty couscous to delicious tagines.
Side note: For starters, try the specialty Moroccan soup!
Admire the terrific views of the Taourirt Kasbah and the Atlas Mountains, while tucking into awesome Mediterranean-Moroccan cuisine at Douyria.
Oh and if you're a vegetarian, don't forget to order their veggie pastilla – it's fantastic!
A reliable and super affordable option located in the middle of the town, this place serves international dishes such as pastas, paninis and salads alongside standard Moroccan fare like pastilla and tagines.
Come here for delightful Moroccan pastries as well as French croissants and eclairs.
In the morning, you can grab a freshly made msmem (crepe like flatbread with cheese and honey), take a seat at the cafe next door (also called Habous) and then indulge in some people-watching, while sipping a hot coffee.
Where To Stay – Ouarzazate Hotels, Riads and Guesthouses
To make it easy for you, I've included options in Ouarzazate as well as in Ait Ben Haddou.
That said, since traveling from one area to the other is quick and easy, it doesn't really matter where you decide to base yourself.
So it might come down to your budget.
With that in mind, I've given a list of accommodations that fit in all 3 categories:
Budget
A 15-min walk from Ait Ben Haddou, this highly rated guesthouse is a solid choice for the budget-minded traveler.
It offers a garden, a hammam and a terrace with lovely views of the village.
Yet another superb guest house that's in close proximity to CLA Studios, Atlas Film Studios and Quad Evenement (an ATV rental service).
They also include a tasty and hearty breakfast which you can enjoy on their inviting rooftop terrace.
A pleasant, reasonably-priced inn with a restaurant and a pool.
Breakfast is free and there's on site parking available.
The staff here are also very helpful, which is always a good thing!
Mid-Range
An excellent, family-run guesthouse that has free private parking available on site.
The interior is beautiful with plenty of local art and photography adorning the walls.
Outside is a lovely tiled central fountain as well as an outdoor swimming pool surrounded by shaded sun loungers
As for the food?
Well, it's marvelous and the fact that this place also hosts cooking classes is an added bonus.
An old 17th century court house belonging to Pasha Glaoui (a powerful governor of Marrakech), Dar Kamar (which translates to 'The house of the moon') has been lovingly restored and transformed into a beautiful riad.
The decor is absolutely delightful and the rooms are very comfortable.
Additionally, breakfast is excellent and served on a lovely rooftop terrace that provides amazing views of the surrounding area.
Luxury
A top-rated guest hotel, this place is literally like a lovely little sandcastle with several levels and terraces.
There's a large outdoor swimming pool, an on site restaurant that serves delicious food and free private parking.
Guests can also relax in the fire-heated hammam or opt for soothing massages.
The icing on the cake is the staff – they are super nice and go out of their way to make sure you're enjoying your stay!
If you're seeking a luxurious accommodation, look no further than this 5-star hotel.
The air-conditioned rooms here have unique and film-inspired themes and are decorated with high quality furnishings including Buddha statues and fireplaces.
Guests can enjoy superb traditional Moroccan cuisine at the in house restaurant, Out of Africa.
And if you want to cool off, have a dip in the lovely swimming pool set within a beautiful garden.
And finally, before we wrap up this post, here are some amazing…
Tours From Ouarzazate And Surrounding Areas
Kasbah Talouet and Ait Ben Haddou Day Trip
Half-day Guided Quad Tour from Ait Ben Haddou to Fint Oasis
Full-day Guided Quad Tour of Ait Ben Haddou and Kasbah Telouet
Marrakech To Ouarzazate Day Trips
Full-day Tour of Ouarzazate and Ait Ben Haddou
Top Rated Full-day Trip To Atlas Mountains And Ait Ben Haddou