For most people visiting Morocco, the exotic, bustling city of Marrakech is usually the first stop on a journey through the country.
And it's easy to see why.
Surrounded by a beautiful palm grove and with the majestic Atlas Mountains visible in the background, Marrakesh has it all…
…from ancient souks filled with an array of shops and cafes, historical palaces and museums, beautiful riads, magnificent architecture, delicious food and nearly year-round sunny weather.
In other words, this thriving urban area has everything a traveler would desire, making it a highly sought after tourist destination.
With that in mind, this guide goes into detail about all of the things to do in Marrakech including what to see, where to go, the best food hotspots, what kinds of day trips you can take and also how you can enjoy what this city has to offer on a modest budget.
Alright, let's get started!
Disclosure: Some of the links below are affiliate links, meaning, at no additional cost to you, I will earn a commission if you click through and make a purchase. Thank you for your support!
Marrakesh Travel Guide: What to See
Marrakech Palaces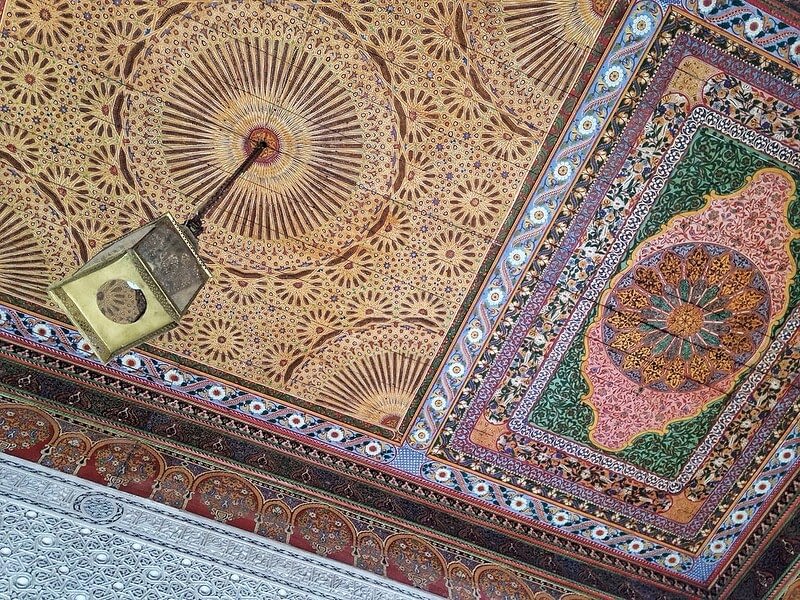 Visiting this palace is usually at the top of the list of 'Things to do in Marrakech.' And it's easy to see why.
A magnificent structure built on over 2 acres of land, it contains 150 rooms, a large courtyard, lush little gardens and a harem section which is closed off to the public.
Let's talk about the architecture, which is simply splendid!
For example, you'll see detailed geometric paintings, gorgeous stucco work and intricate woodcarving throughout the ceilings of the palace.
Additionally, the council rooms have attractive zellige fireplaces and beautiful painted cedarwork and the living quarters are adorned with zellige-tiled floors and stained-glass windows that are truly lovely to look at.
The courtyard too is magnificent with attractive Carrara marble flooring and an eye-catching fountain in the center. It's a great place to relax for a bit after you've been walking around for a while.
Side note #1: Parts of the 1956 film 'The Man Who Knew Too Much' (which was directed by Alfred Hitchcock and starred James Stewart and Doris Day) were filmed at Bahia Palace.
Side note #2: I've gone into more detail about this popular tourist attraction in Marrakech in this post.
Photo credit: CarolineCCB
Sometimes called 'Badia,' this place has a history of being looted. Please keep in mind you won't be able to view the whole palace, but rather what's left of it.
That said, the ruins are still interesting to look at, so you might want to include this in your itinerary.
Construction of the palace began in 1578 by Sultan Al Mansour Addahbi, but by the 17th century, the entire structure was stripped of marble and other materials.
Currently, there are quite a few projects underway to develop the gardens and renovate sections of the palace, which should help re-instate some of its former glory.
Mosques in Marrakech 
Towering 77 meters (253 ft) over the main square is the impressive Koutoubia – one of the most recognizable landmarks in Marrakesh.
Although non-Muslims cannot enter the mosque, visitors can stroll around, take as many pictures as they want to (the architecture is superb) and relax in the lovely back garden that has numerous palm trees, mini pools and fountains.
Located opposite the Marrakech Museum, this mosque was originally built during the Almoravid dynasty.
However, the building was demolished when the Almohad dynasty came into power. The latter then constructed their own mosque in its place. Although currently closed for renovation purposes, visitors can still view it from outside.
Nearby, you'll also find the Medersa Ben Youssef.
Built 500 years ago, this was once the largest ever Islamic school in North Africa.
Currently closed due to restoration works, this magnificent building is a must-visit once it re-opens to the public, mainly because the architecture here is absolutely amazing and not to be missed!
Museums in Marrakech
Owned by Dutch anthropologist Bert Flint, this museum showcases a wide range of carpets, clothes, knives, jewelry and basket works from various regions in the country. Flint's collection from the Folk Museum in Agadir is also housed here.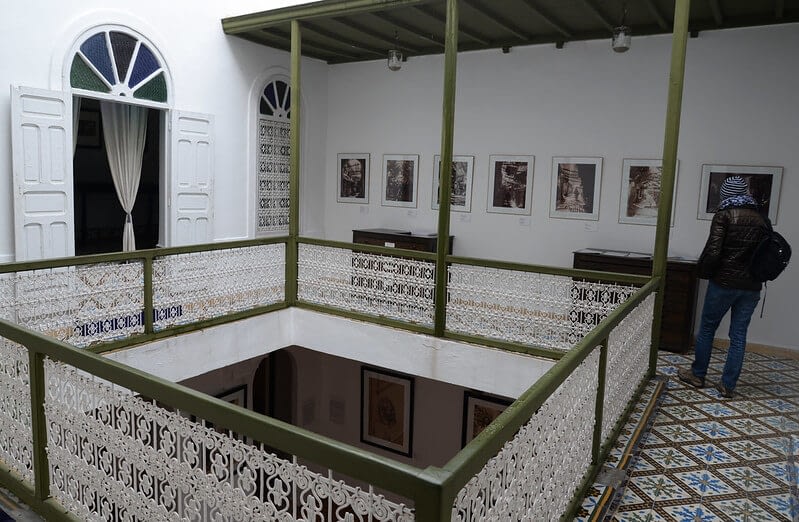 Photo credit: Nicnac
Also known as the Maison de la Photographie, this fantastic museum houses an impressive range of (mostly black and white) photos from 1870 – 1950.
If you're into photography, do drop by and check out their excellent collection. In addition to the photos, a documentary shot in 1957 about the Berbers in Morocco makes for interesting viewing.
A former palace, this museum was opened to the public in 1997.
And while most of the postings and sign boards are in French, it's worth a quick visit if you're keen on getting a glimpse into Moroccan culture. One wing is dedicated to Berber jewelry and Moroccan embroidery and textiles.
Another wing hosts contemporary Moroccan artwork and includes paintings by Mohamed Ben Allal, Abdellatif Zine, Mohamed Nabili and Ahmed Louardiri.
There's also a great collection of daggers and ceramic items.
Palais Dar Si Said Museum
Also known as the Museum of Moroccan Arts, this place is part museum and part palace.
You'll find a decent collection of Morocco's native crafts here including a display of beautiful woodwork. The building itself is architecturally impressive – the carved cedar ceilings on the 2nd floor are particularly fantastic.
The palace courtyards are also lovely to look at – lush and quiet with exquisite tile work, fountains and gazebos.
Many of the custodians will be open to showing you around and if you put in a polite request (and offer a tip for their help), they may even take you inside the courtyard and bedroom of the harem, which is usually not open to the public.
Marrakech Gardens
Photo credit: Hg2Hedonist
A UNESCO World Heritage site, these botanical gardens are around 400 hectares in size and include several rows of  olive groves in addition to beautiful fig, orange, pomegranate, lemon and apricot orchards.
The name 'Agdal' translates to 'Walled Meadow' and after initially being designed as an orchard, the garden was later renovated and walled when the Saadi Dynasty was in power.
A minor downside to these gardens is that there's no set walking trail to follow and everything's a bit disorganized, which can leave visitors a tad frustrated.
That said, the focal point of this place – the highly sophisticated irrigation system – is very impressive and certainly worth checking out.
An ingenious network of underground channels transports water all the way from the Atlas mountains to a massive water basin. The underground irrigation system then distributes this water to the orchards via lagoons and large pools scattered across the ground.
Needless to say, it's a fantastic example of the landscaping and architectural skills at the time.
I've written a separate article about these Marrakech gardens, so I'll be brief here.
Suffice to say, the Jardin Majorelle is a sought after attraction and is usually one of the most recommended things to do when staying on holiday in Morocco.
Given its popularity, it's a good idea to arrive as early as possible.
This way, you can avoid the crowds and be able to properly enjoy the gardens.
This beautifully curated place boasts over 500 plant species as well as a wide variety of cacti. Additionally, there are plenty of palm trees, orange groves, several beautiful fountains and a small bamboo forest that you can explore.
What really makes these gardens stand out though is its famous eye-catching blue architecture.
It's a lovely sight indeed!
Afterwards, you can pop into the little Berber museum on site which portrays the rich history of Morocco's native people through nearly 600 exhibits including traditional clothing, elaborate woodwork, leather work and traditional musical instruments.
While these gardens aren't a must-visit location in the red city, if you've got some time to kill, drop by to enjoy a little picnic among the giant olive groves spanning 100 hectares.
Also, there's a large 11th century pool that's interesting enough (soldiers were once trained to swim in it) and the view from the former military building is really nice. Camel rides are available as well, but you'll need to bargain hard to work out a reasonable rate.
What To Do In Marrakech 
Sign Up For A Cooking Class
There's no better way of exploring Moroccan culture than through your taste buds!
So in addition to trying out the local cuisine, why not go ahead and take a Marrakech cooking class?
Not only is it a very interesting and memorable experience, it also allows you to gain a first-hand look at how the natives prepare delicious meals the exact same way they do at their own homes.
With that said, here are 4 cooking classes in Marrakech that I highly recommend:
> Amal Cooking Class Marrakech
Run by Amal Women's Association (a non-profit organization), the cooking and baking classes offered here are a perfect way for anyone visiting Marrakech to dip their toes into the delightful world of traditional Moroccan cooking.
What's also pleasing is that all of your funds go towards empowering local disadvantaged/vulnerable Moroccan women through education and culinary skills training programs. So you get to learn how to whip up a delicious meal while helping others – not bad at all!
> Dar Les Cigognes
Located on the edge of the mellah, Dar Les Cigognes is well known for their excellent cookery programs, which are tailored according to the needs of their participants.
It's also a more intimate affair here with the classes being generally reserved for just two people.
Courses range from fairly simple 1-hour, 1 dish workshops to 1/2 day pastry-making classes.
For the more adventurous, workshops involving more complex dishes (eg: how to make cow's feet tagine or sea urchin souffle) can be arranged on special request.
> Souk Cuisine
Another excellent cooking class in Marrakech that has received favorable reviews from participants.
This one's run by Dutch expat Gemma van de Burgt and starts off with a morning walk in the market to purchase herbs, spices, bread and various other ingredients.
Once you're back inside, local female cooks will show you how to prepare an array of delicious dishes such as M'hancha (a traditional Moroccan pastry packed with almonds), sardines with a spicy chermoula sauce and Briouats (yummy filo pastry pockets).
This is a great half-day experience and you'll leave the course with your belly full and mind enriched!
> La Maison Arabe Cooking Class
For a fantastic modern culinary experience, you'll want to consider enrolling in one of La Maison Arabe's cookery courses.
Your day begins outside of the kitchen with a tour of the local food souk to purchase various traditional ingredients.
You'll then return to the fancy hotel where you'll be given an individual workstation and shown how to prepare authentic Moroccan cuisine.
Some of the dishes made include freshly baked bread, tagine, a cold aubergine salad (known as Zalouk) and a traditional desert.
Once everything is cooked, you can head over to the tranquil patio where you'll be able to enjoy the fruits of your labor!
> House of Fusion
One of the most expensive and complex cookery courses is offered by House of Fusion.
Organized in a beautifully designed riad, you'll start proceedings by planning out a grand 8-course menu, which will then be prepared in 6 hours.
Before you get cooking however, you'll be given a brief Arabic lesson to help you communicate with vendors when you go out to purchase ingredients in the souks.
Once you're done with your shopping, you'll get started on the dishes with an experienced English speaking chef by your side to guide you along every step of the way.
After the course is complete, the recipes are emailed to you so you can reference them whenever you want to.
Marrakesh Food: Where To Eat
First off, the vast majority of locals here don't dine at fancy restaurants.
They either have their meals at home or flock to small local eateries that serve delicious, authentic street fare.
So if you want to eat the best food in Marrakech, simply go where the natives go.
Now if you prefer to hang out at slightly more upscale restaurants (that are known for their great cuisine), here are some places to consider:
> Cafe Clock
They have 2 branches (one in Marrakech and another one in Fez) and both places offer a pleasant ambience where you can relax and and engage in conversation while enjoying some delicious food.
The dishes here are fairly simple, but well executed, with plenty of veggie options available for those that are vegetarians.
Cafe Clock is located close to the El Badi Palace and Saadian Tombs, which makes it an ideal dining spot if you want to grab a quick meal.
Side note #1: Try their camel burgers – they're totally yummy! If you're not an adventurous eater, opt for their lamb tagine and toasted chicken bouhaloo instead.
Side note #2: A myriad of events are hosted here – from art exhibitions to traditional story telling, calligraphy classes to cinema nights, a visit to this place can be combined with a workshop or two, making for a fantastic daytime activity to add to your list of 'Things to do in Marrakech.'
> The Amal Women's Restaurant and Training Center
While the food here is delicious and great value for money, one of the most notable things about Amal is the story behind its origin.
The name means 'Hope' in Arabic and the restaurant was established with the aim of training local disadvantaged women in hospitality and catering skills.
The menu changes on a daily basis depending on what's available in the markets and you can expect an interesting mix of dishes including chicken and preserved lemon tagines, goat cheese platters, liver with mashed potatoes and beef stir fries.
Traditional, authentic couscous is served every Friday and is a customer favorite!
> Nomad
Nomad is one of the best examples of a modern Morroccan menu and is a must-visit if you're keen on trying out amazing, high quality fusion meals that marries traditional local dishes with international cuisine.
Appetizers include Moroccan pastilla filled with goats cheese, spiced veggies and caramelized tomato confit and a scrumptious shaved cauliflower and fennel salad topped with toasted almonds and fresh herbs.
The mains are just as intriguing and equally delicious.
If you're a meat lover, go for the lamb brochettes – made with marinated lamb and served alongside an olive, aubergine and red pepper relish, it's full of flavor and a real winner.
On the other hand, the calamari – marinated in a cumin infused ginger, anchovy and harissa sauce and served with cherry tomatoes and braised fennel – is sure to please seafood lovers.
Nomad's desserts are also fantastic and includes treats like hibiscus infused yogurt panna cotta glazed with spiced fruit (this varies according to the season) and flourless orange cake topped with whipped cream and caramelized orange zest.
Yummy!
> Henna Art Cafe
This quirky little cafe has a pleasant and relaxing ambiance (perfect for when you want to escape from the hustle and bustle of the medina), a great range of dishes, friendly staff, free wifi, and an excellent henna service.
In addition to providing traditional Moroccan food (such as couscous, tagine and Berber omelet), Henna Art Cafe offers several tasty Mexican-Moroccan fusion dishes as well as a good selection of vegan, vegetarian and gluten-free options.
Their henna service is also very popular as they only use 100% natural henna – none of the cheap chemical stuff you find on the streets.
The artists are all local women and they excel at what they do, so you can expect a fast, precise and professional service should you decided to get yourself a henna tattoo here.
Apart from this, they also house a collection of unique artwork that you can admire while enjoying your meal.
Side note: The cafe regularly exhibits and sells artwork produced by both local and international artists. All of the profits from sales go directly to the artists who often struggle to find a prominent space in Marrakech to feature their work.
Marrakech On A Budget – Here's What You Can Do And See
One of the best things about this city is that it caters to all needs and purses.
So if you're on limited funds, you don't have to worry about breaking the bank to enjoy what Marrakech has to offer, because there are plenty of things to do and see for the budget-minded traveler.
Note:
This section is divided into 2 parts – first, we'll highlight some experiences you can have that's going to cost you a little bit of money.
In the next part, we'll focus on things you can do completely FREE.
Cool?
Ok, let's dive in!
Enjoy Awesome Views Of The Main Square
For the price of a cup of mint tea, you can chill in a rooftop cafe overlooking Jemaa El Fnaa and observe all of the action from above.
Most rooftop cafes expect you to purchase something before they allow you upstairs. You need not buy anything expensive though – a bottle of water or even a soda would be fine.
Once you're seated, you can indulge in some people watching, read your favorite book or simply sit back and soak up the amazing medina vibes.
Not only is Marrakech street food super delicious, it's also insanely cheap.
So if you're looking to save some moolah, skip the fancy restaurants and cafes and grab your grub from the very same places the locals get theirs – hole-in-the-wall eateries and food carts on the street.
If you're keen on trying out a local hammam in Marrakech, stay away from the luxurious spa like spots (which can be quite expensive) and stick to cheaper options instead.
For example, you can head over to a neighborhood hammam – there's one in pretty much every section of the city – just ask the staff at the riad or hotel you're staying at for directions to the closest one.
Another place that comes highly recommended is Kennaria Hammam.
Located off Rue Riad Jdid, it's open to both sexes (although there are separate slots for each – women can use it in the afternoon and men in the morning).
Hugely popular among locals, you might find it difficult to find because of the low entryway. There isn't proper signage either, so it's a good idea to ask a local to point you in the right direction.