When planning their Sri Lanka itinerary, the capital city of this island nation is usually not on top of the list for most folks.
'Are there interesting things to do in Colombo?' they wonder.
'Is Colombo worth visiting?' others ask.
And I get it.
From the sun-kissed beaches in the South to the lush green hills and misty mountains in the Hill country to the archaeological significance of the Cultural Triangle areas…
The rest of the country just seems far more alluring, right?
But you know what?
This city does have its charm.
It has fabulous hotels, a pretty happening food scene (dozens of exciting new restaurants keep popping up), pockets of vibrant neighborhoods to explore and a wide range of must see places and activities that are definitely worth checking out and indulging in.
So with that, I hope you find this guide useful in helping you enjoy your time in the city.
19 Awesome Things To Do In Colombo – A Fun List Of Colombo Visiting Places
Disclosure: Some of the links below are affiliate links, meaning, at no additional cost to you, I will earn a commission if you click through and make a purchase. Thank you for your support!
1.

Sip Flavorful Ceylon Tea At Dilmah T-Lounge
Before this gorgeous island nation came to be known as Sri Lanka, it used to be called Ceylon.
And it used to be (and still is in fact) renowned the world over for great-tasting, superior quality tea.
So if you're thinking about things to do in Colombo, why not try pure Ceylon tea?
While you'll find it served all over the country, at the Dilmah T-Lounge, you'll be able to sip on a wide variety of teas and tea-inspired cocktails, mocktails, burgers, pizza subs and even desserts.
I've tasted their Cardamom T-kitsch, Earl grey banana T-shake and Chilled rose and french vanilla milk tea with caramel bubbles and enjoyed them all.
Dilmah T-Lounge has two locations in the city – one at the Independence Square Arcade and one at Fort.
So if you're a lover of this beverage (or even if you aren't), feel free to drop in at either one of these branches and enjoy all things tea!
2.

Drop By The National Museum of Colombo
Photo credit: Umedha Shanka Indranath Hettigoda
Established in 1876 by the British governor at the time, this is the largest museum in the country.
The exhibits are arranged across two floors and tell a compelling story of ancient Sri Lanka.
There are several important historical artefacts including statues, swords, masks, carvings and art belonging to various periods of its rich history. The crown and throne that were once worn by Kandyan kings, are particularly impressive.
You'll also come across an interesting collection of objects from the colonial era.
Bottom line:
If you're a history buff and enjoy checking out museums, make sure you pencil this in your list of things to do in Colombo.
3.

Enjoy A Stroll Around Pettah
The hustle and bustle of this place can often times, be quite overwhelming.
You'll have to deal with throngs of people, swerving tuk-tuks and even jaywalking cows.
Not to mention the unrelenting heat.
Yet, many people consider Pettah the beating heart of Colombo.
And if you want to get an insight into the local way of life, this is where you'd want to be.
Wear comfortable clothes and shoes and be prepared to walk a lot. There are loads of little eateries and food carts around though so you can always stop by one for refreshments whenever you want to take a quick break from the chaos.
Ok, so here are some of the highlights of Pettah you may want to check out:
The Pettah Market
A massive market where you'll come across street after street of shops and stalls selling everything under the sun – from garments and greeting cards to wood apples and salted dried fish.
Jamiul Alfar Mosque
Known as the 'Red Mosque,' this building dates back to 1909 and is famous for its stunning red and white striped candy like design and beautiful architecture.
It's a mesmerizing sight indeed and is definitely worth a quick stop.
Old City Hall
This building dates back to 1865, when the British used it as a municipal establishment.
Today, the place is pretty much empty, except for a few old trucks and some other equipment on display on the ground floor.
But if you're willing to tip the attendant (Rs 100 is fine), they'll be happy to take you up to the old council chambers where, covered in dust, you'll see waxwork replicas of the town's first councillors in 1906.
Dutch Period Museum
Built in the 17th century, this building was initially reserved as the residence of the Dutch governor. Since then, it has housed a police station, a Catholic seminary, a post office and a military hospital.
The museum has plenty of interesting artefacts as well as Dutch colonial furniture on display. There's also a lovely garden courtyard where you can spend some time strolling around.
Wolvendaal Church
Dating back to 1749, this is the oldest Protestant church and the most significant Dutch building in Sri Lanka.
Stepping inside will reveal beautiful and elegant furniture including ebony chairs, a wooden baptismal font, a lectern and a wooden pulpit. The latter in particular is a fine example of skilled craftsmanship.
Side note: The name of this place came about because the Dutch wrongly thought that the jackals roaming around the area at the time were wolves. So they named it Wolvendaal (Dale of Wolves)!
Moving on…
Despite what some may claim, Pettah isn't the place for souvenir shopping – at least, not if you're looking for traditional, high quality Sri Lankan crafts and other products. Yes, you'll find loads of trinkets, ornaments and clothing here for cheap, but they're mostly made in China.
That said, exploring this busy area is a good idea, especially if you want to get a feel for the local culture.
4.

Visit The Gangaramaya Temple – One Of The Top Colombo Attractions
The 120 year old Gangaramaya is the biggest Buddhist temple in the city and is well worth a look-see.
Featuring a rather interesting combination of Sri Lanka, Chinese, Indian and Thai architecture, it houses a massive Buddha statue in the main sanctuary, which I'd say is the highlight of the temple.
In addition to this, there are golden Buddha statues at the entrance, an impressive collection of even more statues and a large display of various other objects. You'll even see a large stuffed elephant that looks eerily life-like!
5.

Relax At Beira Lake
Located in the center of the city, the Beira Lake is one of the best places to visit in Colombo for couples, although it's popular among families too.
Perfect for a leisurely late afternoon/evening stroll, you can also indulge in boating (there are several swan shaped pedal boats available for hire) and bird watching.
Another attraction of interest here is the beautiful Seema Malaka.
Built in the late 19th century, it's part of the Gangaramaya Temple and is located right in the middle of the lake.
Monks use it for rest and meditation rather than for worship – and the serene environment and calming white and grey shades of the structure make it an ideal place for deep contemplation.
Access to the temple is via a pontoon bridge.
Seema Malaka is way less crowded than the Gangaramaya, so if tourist-packed places are not your cup of tea, you could always come here (especially since it's only a short distance away).
6.

Take A Fun Cookery Class
If you're a foodie fan, you'll want this on your itinerary of things to do in Colombo.
Not only is taking a cookery class a great way of meeting and bonding with the native people, it also gives you an opportunity to familiarize yourself with local cuisines and traditional methods of cooking.
And while there are quite a few highly rated cookery courses in the city, one in particular gets my highest recommendation.
You'll be able to select a menu, shop at a nearby market (and get to check out local fruits, veggies and spices) and discover how to prepare a delicious 5-course Sri Lankan feast.
The workshops are fun (so your kids will love it too) and interactive (important when you're learning how to cook a dish yourself) and overall, a fantastic learning experience. You can make a reservation here.
7.

What To Do In Colombo For A Day – Explore Galle Face Green
This place holds lots of fond memories for me.
It's where my parents used to take my younger brother and I every fortnight – we'd have loads of fun flying kites, going on pony rides, playing cricket, snacking on yummy isso vades and indulging in creamy milk choc ices.
Good times. 🙂
Today, Galle Face Green has undergone somewhat of a transformation, although unfortunately, it's not entirely for the better.
The ground is now pretty uneven and bumpy and the grass overgrown in some areas.
Sadly, nobody seems to be interested in maintaining the place.
Despite this, it remains one of the must visit places in Colombo and is a popular gathering spot for the locals. Everyone from families, couples, kids, youth and the elderly come here to relax and unwind and escape the hectic nature of life in the city.
Kite flying and cricket are still played and for the foodies, there are plenty of food stalls selling everything from crispy isso vades (prawn patties) and delicious devilled crab to spicy squid curries and tasty chicken kottu.
So whether you're on a lengthy trip to Sri Lanka or you're simply wondering what to do in Colombo for a day, do make it a point to spend some time at Galle Face Green, if only for a short while!
8.

Check Out The Planetarium
First established in February, 1965, Sri Lanka's first and only planetarium is an impressive and eye-catching sight indeed.
Designed by A.N.S Kulasinghe and built by a team of engineers from Germany, the building borrows many architectural elements from the Cathedral of Brasilia and the Liverpool Metropolitan Cathedral.
Furthermore, it houses a 570-seat auditorium with a domed screen on which an artificial sky is projected. Educational tours on astronomy as well as the eco-system are regularly conducted here, so if you're interested in astronomy, do drop by.
9.

Chillax At Diyatha Uyana
Image credit: Exploreslk.com
When talking about non-touristy things to do in Sri Lanka, this one often comes up.
And with good reason too.
Diyatha Uyana was once a marshy wasteland that has now been transformed into a lovely urban leisure park built on the bank of the Diyawanna Oya (lake).
It's very popular among locals who come here to escape the hustle and bustle of the city and enjoy some cool breeze and lush scenery.
There's also a play area for kids, a food court, a few handicraft stalls and a small, circular shaped aquarium. In addition to this, you'll find some interesting 3D art done by talented local artists.
Entrance to Diyatha Uyana is free.
Btw, just a few minutes away from the park is the Waters Edge Hotel.
The property features green lawns, multiple walking paths and several beautiful lily-dotted ponds, making it a sought after wedding venue in Sri Lanka.
10.

Drop By The Sambodhi Chaithya
Tucked away near Colombo Port and a short distance from 5-star hotels, this bell-shaped Buddhist stupa is built on a raised platform supported by two massive diagonally interlocking arches on either side of the road.
You'll have to take off your shoes before entering and then walk up 11 stories to see the inside of the stupa, where you'll find 31 murals depicting scenes from the life of Buddha.
While there, you can also take in the magnificent views of the harbor – it looks especially great during sunrise and sunset, so try to go at this time.
Actually, it's probably better to come here either early morning or late evening, as the concrete steps of the tower can get really hot during the day.
Additionally, there's a small maritime museum nearby that displays paintings showing the history of the port.
Entrance is free of charge.
11.

Sip On Lovely Ceylon Coffee
Before this country became known for its tea, it was one of the biggest global coffee exporters, along with Brazil.
And while tea dominates today, coffee hasn't completely faded into the background. In fact, there are two shops in the city that serve up some awesome local coffee – White & Co and Plus Nine Four.
The former is a 2 storied cafe facing the ocean and they've got a great selection of coffees to choose from.
Try their Vietnamese Ca Phe Sua Da, Cold Drip and Pour Over – all perfectly brewed and great tasting.
The latter on the other hand is a beautiful garden cafe that has, among other things, excellent iced coffee.
12.

Try All Things Organic At The Good Market
If you're interested in items that are organic, chemical-free, handmade or locally sourced, you'll want to check this place out.
It's a small but cheerful market featuring everything from ethical fashion and natural body, home and garden supplies to fresh fruits and veggies and delicious organic food.
One of my favorite stalls is 'Soul Food.'
They offer a fantastic range of vegan and gluten-free treats including healthy and delicious salad bowls, raw soups, refreshing beverages and yummy desserts.
I'm not even vegan and I still enjoy all of their goodies because the quality is generally top notch and the taste absolutely amazing.
Side note: Try out their almond milk products – they're wonderful.
Another excellent stall you'll want to head over to (especially if you're craving a plate of traditional Sri Lankan rice and curry) is Jeewa's Polos and Kuma's Natural Foods.
Side note: Go for their ambul thiyal and crab curries. They're delish and tend to run out real quick, so you'll have to swing by early.
Their jackfruit seed curry, lotus root and polos cutlets are also worth sampling. In fact, the latter is also one of their biggest sellers.
Yet another interesting stall is Healing Hands.
If you're in need of a relaxing massage, the folks here will take good care of you.
They are experts that have been trained in Japanese massage techniques – and get this – they're blind.
Yup, you read that right.
Which makes what they do even more admirable, right?
By the way, please note that The Good Market is only open on Saturday each week, so it might be a bit difficult to fit into your schedule, especially if you're on a short vacation in Sri Lanka.
That said, if you miss Saturday's market, you can pop over to the Good Market Shop which is right across the road and open daily.
Bottom line:
If you have the time, you may want to include this place as part of your itinerary of things to do in Colombo.
13.

Go Golfing At The Royal Colombo Golf Club
Established in 1880, this is considered to be the oldest and finest golf club in Sri Lanka.
Located at the 18-hole, 40 acre Anderson Golf Course (also known as The Ridgeway Links), it's a very picturesque fairway and you can enjoy several peaceful hours here practising your swing and hitting the balls as far as you can.
So if you're an avid golfer, you'll definitely want to swing by.
See what I did there? 🙂
14.

Make A Stop At The Independence Memorial Hall
Photo credit – Dan Lundberg
Built to celebrate the country's independence from British rule, this impressive building is located at the heart of Colombo 7 – the country's poshest neighborhood.
And while the hall is mainly used for National Day celebrations and other religious events, it also serves as a popular spot for recreational activities in Colombo.
Fitness enthusiasts, university students and families that seek to escape from the noise and crowds on the streets all flock here on a daily basis.
At the entrance to the building, the statue of Sri Lanka's first prime minister – D. S. Senanayake – is surrounded by four fearsome looking stone lions.
As for the assembly hall, it's decorated with 'Punkalasas' (pots that signify prosperity and wealth) on the outside and lovely Embekke wood carvings, on the inside.
One thing that many visitors miss out on is the underground museum.
It features a series of compelling exhibits depicting the island's colonial history and the struggle of the locals as they fought for independence. The museum also has some fascinating cultural exhibits showcasing Sri Lanka's rich ancient arts and literature scene.
Entrance is free.
15.

Check Out The Paintings At Green Path
Ananda Coomaraswamy Mawatha, or Green Path (it's a lot easier on the tongue!), is a leafy street found near the Viaharamahadevi Park and the National Museum.
Many artists set up pop up stalls here and display their artwork on the pavement.
And while some canvas paintings are completely garish, most are lovely and gorgeous to look at.
So if you'd like to get something that reminds you of your trip to Sri Lanka, why not consider purchasing some art?
Besides, you'll be doing your bit to support young talent, many of whom are struggling to earn a decent income through their work.
Side note: It's a good idea to have a local accompany you to avoid getting ripped off. If this isn't possible, be prepared to take your bargaining skills for a spin if you're quoted ridiculous prices.
Or you could ask the staff at the place where you're staying it for a rough price guide – this way, you'll know the average cost of the paintings and you can ensure you're not purchasing something that's been way overpriced.
16.

Unwind At The Viharamahadevi Park
Often times, public parks don't exactly feature on any tourist's list of top Colombo attractions.
But you know what?
There's something to be said for a lush green open space where you can spend some time going for a leisurely stroll or chill on a bench with a good book or enjoy a lovely little picnic on the grass.
And the Viharamahadevi Park (formerly known as Victoria Park) is one such space. Located close to the Colombo National Museum, this is something you can combine with your visit to the latter.
Though lacking in major activities, the park is home to sleepy bats, colorful parrots and striped squirrels and has quite a few fountains, an amphitheatre and some impressive statues of the Buddha.
So it's a pretty good spot to recharge your batteries before diving back into the hustle and bustle of city life.
Side note: If you bump into the gardener, take him up on an offer of a short tour. Sure, he'll expect you to tip him at the end of it, but you'll pick up some interesting bits of info along the way that make it worthwhile.
For instance, the last time we came here, the guy taught us how to spot an ants nest among leaves and also showed us a 1500 year old tree.
17.

Enjoy Viewing Some Contemporary Art
Established in 2009 and situated at Colombo 7, the Saskia Fernando Gallery is the largest contemporary art gallery in the country.
It houses two immaculate, air-conditioned exhibition spaces and has showcased over 1000 pieces (sculptures, paintings and new media) by emerging and leading local contemporary artists.
In addition to organizing monthly exhibitions, the gallery has also collaborated on exhibitions in Singapore, Dubai and London.
Recommended as one of the unique things to do in Colombo, especially if you're an art connoisseur.
18.

Indulge In Yoga And A Spa Session
A top notch yoga studio, Prana Lounge is quite easily the best yoga centre in Sri Lanka.
Classes are offered for both beginners and experienced yogis – and they're absolutely brilliant. That's mainly due to the staff here who're warm and welcoming and more importantly, very knowledgeable and excellent at what they do.
You have the option of dropping in for a class without having to book in advance (although I'd recommend that you do) or snap up a loyalty pass. This is a good option if your holiday in Sri Lanka is a long one and you'll mostly be based in Colombo.
Other services such as health-related therapy, massage and even hypnosis are also available at Prana Lounge.
As an added bonus, there's a beautiful cafe in the building so a delicious and healthy breakfast or a refreshing juice/coffee can be enjoyed after your class.
Moving on…
Let's talk about spas.
First off, spa treatments in Sri Lanka are amazing.
And if you're in the mood to pamper yourself, indulging in a spa session is a fantastic option.
Kemara and White by Spa Ceylon are two places I'd recommend. Also, since they close at 8 pm, it's one of the best things to do in Colombo at night.
And both provide great service, so you'll walk out feeling refreshed and rejuvenated!
19.

Go Souvenir Hunting (Things To Buy In Colombo)
Instead of getting loved ones back home the usual small wooden elephant, why not look for more interesting prezzies from a Sri Lankan gift shop?
For instance, you could pop into Barefoot – it's one of the most prominent souvenir stores in the city.
In addition to eye-catching woven fabrics, they have an amazing array of accessories and ornaments for the house, a good selection of coffee-table books about the country, lovely fabric-covered notebooks, exotic spices and tea, crafts from around the island, stone work, brass ware and lots lots more.
Paradise Road is another fantastic boutique shop.
Here, you'll come across plenty of unique and stylish home decor items, exquisite ceramic ware including beautiful hand painted mugs, traditional sculptures, attractive hand loom shawls and loads of other quirky collectables.
Additionally, Laksala and Lakpahana are two other shops you can check out.
While the former is a state-owned gift store and sells among other things, traditionally mined and cut gems, handmade jewelry and tea and spices, the latter is the sales outlet of the Sri Lanka Craftsmen and Artisans Association.
Their selection includes batiks, wood carvings, hand embroidered linen and hand woven rush and reed products.
So if you're wondering what things to buy in Colombo to take back with you, I'd suggest dropping by any of these places to pick up the best souvenirs in Sri Lanka.
Best Colombo Tours And Packages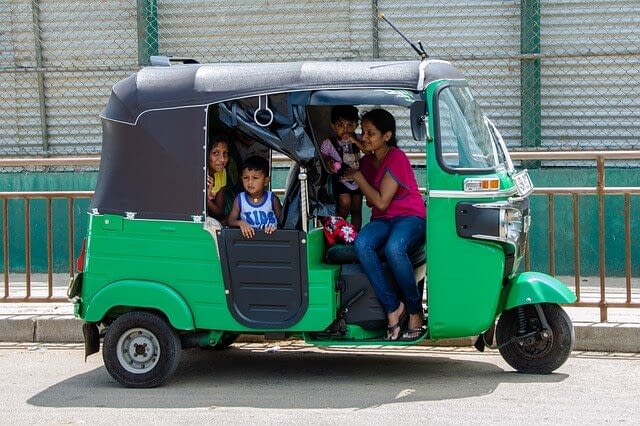 While some tourists like planning their own local tours, others prefer having everything organized for them.
If you belong to the latter, you'll probably like the convenience a tour package offers.
And there are several great options to pick from.
With that in mind, here are some of the best Colombo tours packages available:
With that in mind, here are some of the best Colombo tours packages available:
If you're after a full day sightseeing tour of the city, check this out.
On the other hand, if you don't have much time, a Colombo city tour by tuk tuk is a fun way to get around town and fit in as much as possible.
Or you could opt for a private half day city tour in Colombo by going here.
Oh and if you're an avid foodie, there are two excellent food tours to get you excited – this one and this one.
In Conclusion…
So there you have it – 19 fun and awesome things to do in Colombo!
Granted the city doesn't really have any internationally renowned attractions like some of its counterparts in Asia.
But the locals here are warm and welcoming, the food is outstanding, there are plenty of beautiful religious buildings, several fascinating historical places of interest and a host of relaxing leisure activities you can indulge in.
And while it might not be the highlight of your vacation to Sri Lanka, visiting Colombo for at least a day is well worth it.