Traveling to Marrakech?
Awesome!
Morocco is a fantastic country to visit and most people here are friendly, generous and ready to help you in any way they can.
However, just like every other popular tourist destination, scamming is pretty rampant here.
And if you aren't careful, you could easily fall for a fraudulent scheme, which could then put a damper on your holiday.
In this article, I'm going to reveal the most common rackets that are carried out in the Red City and give you tips on how you can avoid them:
Disclosure: Some of the links below are affiliate links, meaning, at no additional cost to you, I will earn a commission if you click through and make a purchase. Thank you for your support!
Marrakech Scams – The Lowdown
#1 – The 'I Can Show You The Way' Scam
This dirty little trick is rampant in the big cities, especially Marrakech.
Basically, it plays out like this:
A friendly looking guy walks up to you and tries to show you the way to a hotel or offers to take you through a shortcut to the restaurant you're dining at. He may even claim to be a fellow guest at the place where you're staying and fall into step with you.
After you've accepted his help and arrive at your location, the guide will then demand an outrageous payment in exchange for his 'service.'
And if you don't cough up the moolah, he'll start getting real aggressive with you in public.
Usually, when this happens, most tourists swiftly pay the tip to avoid causing a scene. And the scammer walks away triumphant.
How To Avoid It
Be wary of super friendly people who approach you and offer to show you the way. Try not to engage in any conversation with them and politely but firmly decline any offers of help.
If you need to get directions or require any sort of assistance, approaching elderly folk, shopkeepers or the tourist police is a good idea.
#2 – The 'My Meter Is Broken' Scam
This is another common way of getting ripped off in Marrakech.
Plenty of taxi drivers (not all) here claim their 'meter is broken' and will offer you a fixed rate (which is usually sky high).
How To Avoid It
If a petit taxi driver trots out the 'meter doesn't work' excuse, you could either turn them down or firmly insist that they switch it on at the start of your journey.
If the driver still refuses to do so, remind them that it's illegal for them to charge you without a meter and that you'll be informing the authorities about it. This usually frightens them and the meter magically gets switched on. 🙂
#3 – The 'Sorry, I've Got No Change' Scam
When talking about Marrakech tourist scams, this one often ranks high in the list.
And it's a pretty frustrating one too.
So let's say something costs around 50 MAD and you offer 60 MAD expecting to receive 10 MAD back.
What happens instead is that you're informed they have no change to give you.
Don't fall for it though.
They're simply trying to get an extra 10 MAD off you.
How To Avoid It
Stand your ground and ask them to pop into a neighboring store or restaurant to get the money changed.
But what if they continue to give excuses?
Then offer them a smaller amount.
For example, you could say 'Oh it's alright. I have 40 MAD with me, I can give you that. Unfortunately, I don't have 50 MAD with me.'
Don't be surprised to receive your change after that!
#4 – Marrakech Restaurant Scams
Thankfully, we've never experienced this (maybe because we've tracked down the best places to eat in Marrakech), but know of many tourists who have. There are 2 traps to be wary of:
This one will leave a bad taste in your mouth. No pun intended!
Menu 1 (with cheap prices listed on it) is used to entice you into the restaurant.
Once you've had your meal, the bill arrives – and is way higher than you expected. So naturally, you ask to speak with the manager.
That's when Menu 2 is presented – with considerably higher prices printed on it!
How To Avoid It
One thing you can do is grab a quick photo of the menu when it's handed over to you.
This way, if another menu is given at the end of your meal, you'll have pictorial proof that a switch was made.
And if the restaurant threatens to call the police, don't mind one bit – this particular trick is well known to the authorities.
Another suggestion is to ask the staff at your riad for dining recommendations.
Or you can check out this post on the best restaurants in Marrakech to help you decide where to eat.
Usually, when you're offered free bread and tea, only the first round is complimentary.
Top ups will generally be included in your total meal cost, although this tiny little fact will not be mentioned to you in advance.
How To Avoid It
Before you tuck into your meal, always make sure any extras that are provided are actually free of charge.
#5 – The 'You Can Watch This Free' Scam
If you happen to pass by a craftsman at work and show some interest in what they're making, some of them will encourage you to stop and watch the entire process.
'You can watch for free. No need to pay.'
They may even urge you to take as many snaps as you want.
However, just as you're preparing to leave, they'll demand an exorbitant tip. Suddenly, the 'free' viewing isn't free anymore!
How To Avoid It
Yes, getting an opportunity to see first-hand how something is made is definitely cool.
That said, if you don't want to end up paying a hefty tip at the end of the viewing, just say 'No thank you,' to any 'watch for free' calls that come your way and swiftly move on.
#6 – The Henna Scam In Marrakech
Don't let their charming smiles fool you.
These crafty con artists usually carry out their 'business' in the main square (Jemaa El Fnaa) and have quite a notorious reputation for tricking unsuspecting tourists.
One of their main tricks is to suddenly grab the hand of a passer-by and start inking their palm as quickly as possible.
If you're not firm and stop them immediately, they'll insist on being paid a handsome sum for their 'drawing' even though you never even requested a design in the first place.
And what if you refuse to pay up?
Then they'll promptly smudge whatever they drew on your hand, leaving you stuck with an unsightly mess that may take a day or two to finally disappear.
And this is the best case scenario btw.
The worst case scenario is that they'll follow you around and harass you in full view of the public.
Yeah, these henna ladies can be pretty nasty!
How To Avoid It
Be on guard whenever you happen to cross paths with them.
If a woman accidentally on purpose smears some ink on your hand, immediately wipe it off and walk away as fast as you can. Even is she seems super friendly and tells you that she's willing to fix her 'mistake' by offering you a complete hand tattoo.
Mainly because 1. it'll be way overpriced and 2. you never know if the ink being used is dangerous.
Side note 1: Some of the henna ladies might be using black henna, which is known to contain a poisonous chemical that can cause blisters, burns, scarring and serious allergic reactions.
Traditional genuine henna paste is always orange in color with many versions also having a reddish brownish tint.
Side note 2: The best and safest way to get a beautiful, fairly priced henna tattoo in Marrakech is to either head to a reputable henna cafe or request the staff where you're staying at to organize a session for you with an established artist.
#7 – The 'Do You Want This Euro/Pound?' Scam
Most Marrakech scams are done by adults.
This trick though is usually carried out by kids.
They'll innocently approach you with sweet smiles on their faces and politely ask you if you can give them 10 MAD in exchange for the one euro/pound coin they 'found' on the street.
Since they can't use it, maybe a tourist might need one?
'Oh how thoughtful,' you might think.
But be careful.
More often than not, the coin will be fake.
And by the time you realize it, the little rascals would have taken off with your 10 MAD and disappeared into the crowd.
How To Avoid It
Simply refuse any coins that may be offered up by street kids.
#8 – The Tannery Scam In Marrakech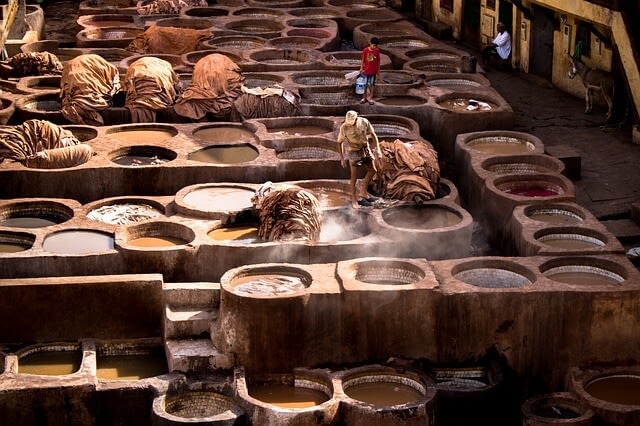 The Marrakech leather market is a busy and thriving place and the tanneries here are hugely popular among visitors.
However, the biggest drawback is that they've also become a key target for an appalling 'fake guide' racket. In fact, these scammers have numerous tricks up their sleeve to try and get you to part with your money.
Here's just one way they operate this scheme:
When approaching the tanneries, you'll be met by locals claiming you'll have to pay a heavy price to visit the place through the main entrance.
They'll then promise to show you a different entrance that does not require any payment to go through.
But once you're in the tanneries, they'll start demanding a fee – and an unreasonably high one at that.
Needless to say, getting out of this situation can be quite tricky and you might have to threaten to call the tourist police if they don't back off.
How To Avoid It
It's probably better to skip the tanneries altogether. The stench can be overwhelming and there isn't much to see here anyway.
If you really want to go though, seek the help of your riad/hotel staff in engaging the services of a professional tour guide.
#9 – The 'You Can Take Picture With Monkey/Snake' Scam
Live animal performances in the Jemaa El Fnaa are fairly common and you're bound to come across people walking about with monkeys or snakes.
When these folks spot you coming their way, they'll quickly place an animal on your shoulder or arm (without asking for permission) and say 'Why not take a picture?'
Some go a step further and will even grab your camera and do it for you.
After that, they'll try and sweet talk you into giving them a big tip in exchange for getting an 'opportunity' to have your picture taken with their critters.
If the sweet talking doesn't work, they'll switch to a more persuasive tone.
And if that fails as well, they'll soon turn aggressive and start yelling for you to pay what they're asking – usually a crazy high sum (around 100 MAD or more).
How To Avoid It
If random people try to make you pose with a creature, firmly resist.
If however, you do fancy taking a quick pic with a snake or a monkey, first agree on a fair price (preferably in the presence of others) – then go ahead and snap away.
#10 – Marrakech Souk Scams
If you're planning on doing some shopping and are wondering if there are any souk-related scams in Marrakech you need to be aware of…
…this paragraph will reveal some of the tricks that are currently being used to con unwitting tourists.
Let's start off with…
1. Fake Items
First off, you'll find that several hugely popular items (such as saffron, argan oil, carpets and pottery) are usually fake and terribly overpriced.
For instance, most argan oil sold at the market is not genuine and is diluted with many other types of oils. The real thing is available in only a handful of reputed shops around Morocco.
I'd also advise against purchasing at a women's co-op, mostly because the prices are really inflated.
Side note: Btw, this post reveals where to buy argan oil in Marrakech. The good stuff that is!
Furthermore, while you can no longer purchase carpets for super cheap, you do need to be wary of paying too much for one.
Many sellers will try to entice you by claiming that a piece is vintage or that it was made by a Berber tribe in a remote mountainous area. Once they've captured your interest, they'll expect you to fork out a ridiculous sum for it.
How To Avoid It
I'd highly recommend asking the staff at your hotel/riad for advice – since they're locals, they'll be able to offer valuable insight into the best places to shop, how much the items cost and how to ensure you're getting the best quality for the price you're paying.
2. Is The Price In Dirhams?
Quite a few sellers will deliberately fail to mention that they gave you a price in euros or dollars.
So to avoid paying extra, always make sure the sum being quoted is in Moroccan dirhams.
3. Behind The Counter Swap
Watch out for this one!
What happens is after you and the vendor agree on a price for a quality item, the latter swaps out the good one for a similar-looking one of inferior quality, behind the counter.
And you won't realize you've been duped until you get home because the product will usually be wrapped and then presented to you.
How To Avoid It
Pay close attention to ensure you receive the original item that you picked and are paying for.
Also, you could politely request that the product be wrapped in front of you.
#11 – The Fake 'Official' Tourist Guide Scam
This is yet another racket that needs to be highlighted more often when talking about the most common scams in Marrakech.
It's actually quite similar to the 'I can show you the way' guy mentioned in Scam #1.
The only difference is that this time around the con artist pretends to be a guide attached to the Tourism Board of the city. He may even produce an official ID card (completely fake of course) in an attempt to convince tourists that he's genuine.
And initially, he might not even request any payment, claiming that he's being paid well by the city council.
What the cunning fox will do instead is take you to different shops and encourage you to buy something, which obviously results in a fat commission for him (but he ain't gonna tell you that)!
Now in order to increase his earnings, he may also persuade you to dine at an eatery (owned by one of his friends or family members), saying you'll be able to get a 'good discount.'
How convenient, eh?
How To Avoid It
Stay away from guides or tour operators that don't have an office where you can visit and meet them in person. Also see if they have an active website you can check out.
Side note: I recommend organzing your tours in Marrakech with Get Your Guide.
They have an excellent range of one day and multi-day trips, offer 24/7 customer service and display real customer ratings and reviews of each tour.
#12 – The Fake Moroccan Fossils Scam
When it comes to Marrakech tourist scams, this fraud isn't mentioned much, which is unfortunate because the selling of fake fossils and minerals in the city is rampant.
For instance, you'll come across loads of shops displaying dinosaur teeth and jaws, but none of them are actually ancient. Instead, they usually turn out to be fake sculptures made from concrete that look remarkably like the real thing.
How To Avoid It
Here's how to recognize actual fossils from the fakes:
For starters, if you spot several of them and they all look the same, they're most likely mass produced concrete creations.
Also, if the price is cheap, that's another sign to steer clear. This is because authentic fossils generally cost a pretty penny and will never be sold at bargain rates.
Furthermore, if the fossils are smooth and perfect in appearance, they're definitely imitation copies – the real stuff is almost always chipped or cracked and will have quite a few missing parts.
#13 – The 'Let's Get High' Scam
Ok, as far as frauds go, this is probably one of the more sinister tourist traps in Marrakech.
Here's how it works: A drug dealer will hook you up with a large amount of hashish and may even join you in smoking it.
Once you're completely stoned out, a dirty cop (who is part of the scheme) will suddenly appear and pressure you into paying a massive bribe in exchange for keeping hush about the crime.
How To Avoid It
Uh, have nothing to do with drugs and dodgy dealers, maybe?!
By the way, before we wrap things up, here's something important to keep in mind:
If you ever find yourself in an emergency situation and need to get in touch with the police asap, you can do so by calling 112 or 190 in the city and 177 outside of it.
A couple other useful numbers worth remembering are 15 for the fire department and 150 to hail an ambulance.
Final Thoughts On Scams In Marrakech
As I stated at the beginning of this article, the vast majority of Moroccans are warm, hospitable and helpful people.
And it would be really unfair to criticize everyone and paint them in a bad light just because of the unsavory actions of a few, right?
I mean, there are tourism scams in pretty much every country in the world.
Morocco certainly isn't unique in this aspect.
So please don't be put off by the contents of this page.
My aim when writing it was to raise awareness amongst would be visitors to this wonderful country of the tourist traps that exist in Marrakech.
This way, they can be nice and relaxed while holidaying in the Red City and just focus on enjoying their vacation as much as possible.
In conclusion, don't let these 13 scams in Marrakech deter you from visiting the place – it's so exotic and vibrant and colorful and there's plenty to see and do, so you're sure to have a great time…
…so long as you take note of the above-mentioned rackets and do your best to avoid them! 🙂