Overwhelming?
Yup.
An assault on the senses?
Totally.
A must-try experience?
You bet!
Marrakech's souks are without a doubt, the heartbeat of the city.
The biggest in the country, they are a labyrinth of narrow, twisting alleyways full of hustle and bustle.
From colorful, eye-catching shawls, gorgeous lanterns and beautiful carpets to dainty trinkets, well crafted leather goods and exotic spices, a treasure trove of items await the curious visitor.
For first-time visitors however, exploring and shopping in the souks can be rather bewildering affair.
I'm here to make it a tad easier though.
I've created this guide to help you navigate the fantastic souks of Marrakech and have fun while doing it. 🙂
So without further ado, let's dive right in.
First up…
A Quick Glance At The History Of Marrakech Souks
'Souk' is the term used to describe an Arab open-air market from which locals purchase all of their essential items.
In the past, traveling traders would pass through them very infrequently – but given the strategic location of Marrakech, many merchants flocked to the city to sell their goods on a daily basis.
Side note: In fact, this is why the medina has numerous access gates – this way, vendors could easily enter and exit the main part of Marrakech, which in turn enabled a much larger volume of items to be sold.
As the local population grew, merchants began organizing smaller-sized, neighborhood markets close to the main communities.
And although these souks mainly sold only daily essentials, their proximity to their homes made it more convenient and easier for people to shop.
Naturally, this translated into a higher number of sales for traders, who were keen on boosting sales further.
The end result?
They merged with nearby souks to form larger marketplaces.
Moving on…
Local artisans generally lived and worked close to those that practiced the same trade.
Soon, these communities of craftsmen expanded and started souks that were dedicated to certain products.
In fact, even today, you'll still come across separate markets specializing in one item only. A good example of this would be the Carpet Souk close to Rahba Lakdima.
Alright, with that out of the way, let's get to the meat and potatoes of this article…
The Lowdown On Marrakech's Most Well Known Souks
First off, they are absolutely massive! 
In fact, you can easily get lost while exploring them (but don't worry, you can always find your way back)!
The marketplace stretches from the main square (Jemaa El Fnaa) all the way to the Musee de Marrakech.  
There are multiple entryways into the souks and they are open daily from 9 AM to 9 PM (although the timings might differ during religious festivals).
With that said, here are some of the best Marrakech souks that are well worth exploring:
> Souk Semmarine (Smarine)
One of the largest and most popular souks, you'll find stalls and shops selling everything from garments to pastries to pottery and Berber carpets. 
At around the halfway mark of this market, you'll arrive at a fork. 
When you take the right path you'll come to the spice souk. 
On the other hand, when you follow the left path, you'll reach Souk el Attarine where you'll see a wide range of traditional ornaments including dainty teapots, exquisite lanterns and ornate lamps. 
Walking through this market will also take you past Souk Cherratin and Souk el Kebir – known for high quality leather goods. 
To the right of Souk el Kabir you'll find the kissarias – covered marketplaces that sell clothing, whereas to its left you'll see Souk des Bijoutiers – a souk for jewelry. 
Moving towards the northern edge of the souks will bring you to Souk Haddadine and Souk Chouari – the blacksmiths' and carpenters' souks. 
Here, you'll have the opportunity to observe skilled tradesmen at work and gain a sense of appreciation for their commitment to their craft. 
Towards the southwest, there's Souk Sebbaghine where clothmakers dye their fabrics in a variety of attractive colors. 
You'll see another souk nearby, Souk Kimakhine, which is the place to go to if you're a music lover and are interested in checking out traditional Arab and Gnaoua musical instruments.
> Souk Ableuh
Known as the Spice Souk and located just off the Jemaa El-Fnaa, you'll find tons and tons of aromatic spices and herbs being sold here at very affordable prices.
So now you're probably wondering:
What are the best spices to buy?
Well, some of my favorites include saffron, cumin, paprika and cinnamon.
Btw, only purchase ingredients that you plan on using and avoid spending money on something just because it sounds exotic or looks appealing.
Quick Tip:
Genuine Moroccan saffron is never in powder form. It also feels a tad damp to the touch and has a distinct smell.
Another way to check the quality of it before you buy is to grab a few strands and crush it between your fingers – the result should be a bright yellow stain. If the saffron doesn't give off a smell and has a very crumbly texture, stay away because it's most likely not the real thing.
One more thing…
Real saffron isn't cheap, so don't be fooled by low rates!
> Souk Kchacha 
If you're after dried nuts and fruits, this is the marketplace you'll want to check out.
And while there's an abundance of wonderful food items on display, the dates, figs, olives, walnuts and almonds are particularly good.
> Souk Haddadine 
Planning on snagging one of those beautiful Moroccan lanterns?
Then this is the place to come to.
You'll be able to choose from thousands of lanterns in different shapes, colors and designs and can even have something custom made for you.
But lanterns aren't the only items sold here.
There are oodles of other handmade metal goods (such as plates, ornaments and chandeliers) that are available for sale and are sure to catch your eye.
> Souk Siyyaghin
Well known for its dazzling array of jewelry, especially traditional and replica Berber designs.
You'll also come across other fancy items like Moroccan gems, tribal adornments and ethnic neckbands.
That said, for a slightly better selection, you may want to head to the more developed jewelry souk located in the nearby Mellah.
> Souk Smata 
In this market, you'll find loads of stalls selling brightly colored babouches (traditional Moroccan leather slippers), belts and fabrics. 
And there's an amazing variety too.
From simple embroidered designs to more intricate jeweled patterns, there's something here for everyone.
> Souk Cherratin  
If you want to purchase leather goods, this is the place to go to.
There are all sorts of items here including leather bags, jackets, purses and wallets. 
> Criee Berbiere
Looking to buy carpets in Marrakech?
Then you'll want to make a beeline to the carpet souk where you'll find an incredible range of eye-catching rugs and carpets on display. 
From beautiful traditional Berber carpets decorated with talismanic symbols to the more modern Arab rugs with colorful, bold patterns, you can easily spend a while here marveling at the stunning collection.
What Can You Buy In The Souks Of Marrakech?
> Lanterns
Hand-crafted Moroccan lanterns and lamps make great souvenirs to take back home or even to gift to others.
And there's an astonishing selection to choose from!
The lighter weight pieces are made from aluminium and are typically more affordable.
But before you go ahead and snag one, keep in mind that this metal tends to discolor or rust pretty quickly.
Aluminum items are also quite bendable, so it might not be a good idea to pack them in your luggage. And paying extra to have them delivered back home may not be worth the value.
Instead, go for a more sturdy, heavy-duty lamp/lantern.
Glass plated and metal cut options are ideal for placing indoors. On the other hand, metal fixtures with glass can be used indoors as well as outdoors.
How much should you expect to pay?
Lightweight lamps can be bought for approximately 100 MAD, but can go up to 500 MAD depending on the size and craftsmanship.
The heavier lanterns are obviously more pricey with smaller pieces going for around 300 MAD and larger items selling for anywhere between 1000 – 2000 MAD.
> Spices and Dried Goods
Another favorite take home item, the quality and flavor of the spices and herbs from Morocco is simply excellent.
That said, there are tons and tons of brightly colored ingredients on display in a spice market, so choosing the best stuff can sometimes be a little difficult.
The best suggestion I can give you is to stick with the most well known varieties – saffron, ras al hanout, cumin, cinnamon, turmeric and dry mint.
Also, ask the stall/store where you're making your purchase if the spices can be ground fresh for you. This way, it'll be ready for use when you get back home.
How much should you expect to pay?
These prices are based on 100 grams:
Ras al hanout – 30 MAD
Saffron – 50-70 MAD
Dry Mint – 10 MAD
Cumin + Turmeric – 20 MAD
Cinnamon – 15 MAD
> Leather 
To buy leather goods in Marrakech you can either head to a workshop where leather items are produced or look for a store that deals exclusively in leather products.
These places will generally offer the best quality at the best prices.
If you wish, you can also request for something to be custom made.
How much should you expect to pay?
Leather slippers – 50 MAD upwards
Leather bag – 450 MAD upwards
Leather jackets – 800 MAD upwards
> Rugs and Carpets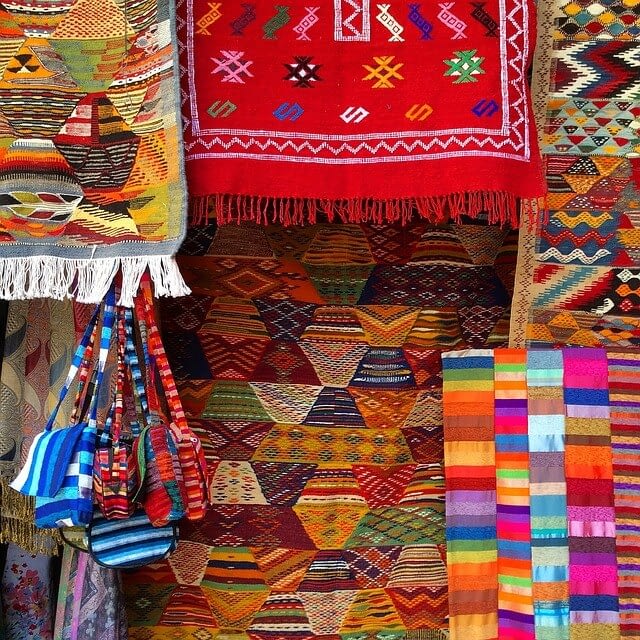 A highly sought after item in Morocco is carpets and rugs.
In fact, they are among the most pricey products on offer in the market – but that doesn't deter visitors from snapping them up because to many, this is a prized investment.
If you enter a carpet store you'll likely be offered a cup of mint tea before being presented with dozens of beautiful pieces to check out.
The salesmen can be very persuasive and the entire sales process can take a bit of time, so you'll want to be at the top of your bargaining game to snag yourself a fantastic deal!
Ultimately, you'll want to arrive at a price that's within your budget but is also profitable for the seller, keeping in mind that most carpets/rugs take several weeks to make.
How much should you expect to pay?
Well, gone are the days where you could buy a cheap Moroccan rug for about 50 bucks.
Today, the prices are a lot higher and you'll want to set aside a few hundred dollars on a high quality carpet.
> Clothing 

From the standard djallabas to more fancy clothes, there are plenty of garments available for purchase in Marrakech souks. Many pieces are still made by hand and are very reasonably priced.
For the ladies, brightly colored linen dresses, tunic tops and kaftans are popular choices. The latter in particular are really comfortable and can be worn indoors and outdoors.
Tip: Wash these items separately for the first few times as the color may bleed.
For the men, thobes (long flowing robe-like garments), shirts and woven hats are good purchases to consider.
How much should you expect to pay?
Shirts – 100 MAD
Kaftans – 50-100 MAD
Fancy dresses – 1500 MAD upwards
8 Handy Tips To Remember When Shopping In The Markets Of Marrakech
1. The best time to check out the souks in Marrakech is…
…either early in the day or late in the evening.
If you're after a relatively calm browsing/shopping experience, it's a good idea to head out soon after breakfast (just after 9 AM) when most stalls will be opening for business.
Not only will the weather be more pleasant, there'll also be less shoppers milling about and vendors are less likely to pressure you into buying because they have the rest of the day to generate sales.
Having said that, if you're interested in picking up some good bargains, you might want to consider visiting the markets before they close – around 9 PM.
At this time of the day, most sellers will be keen on closing any last-minute sales that come their way and you could walk away with a pretty good deal.
2. Stay alert at all times
The souks in Marrakech are so full of hustle and bustle that it's easy to get caught up in all of the commotion.
This is why it's so important to stay alert.
Because in addition to plenty of human traffic, loads of carts, donkeys and motorbikes are constantly traveling on the narrow alleyways, so you'll have to keep your wits about you as you make your way around the markets.
During particularly busy times, you'll have people pushing and shoving past you and some over-eager shopkeepers may even try to grab your arm and insist that you check out the goods at their stall. (If this happens, just say a firm but polite 'no' and keep walking).
Now in the midst of all this mayhem, it's easy to get robbed.
So you'll want to leave expensive jewelry or any other high-value items safely locked up in your room.
Wearing a bag that's fastened securely to your body and opting for a light jacket with front pockets (so you can keep your hand on your wallet at all times) is also a good idea.
3. Arm yourself with a map
Navigating the souks in Marrakech can prove to be a bit of a challenge.
There are plenty of narrow alleyways that twist and turn and you can easily lose your way, no matter how good your sense of direction is.
And while most Marrakech guide books include some sort of map, it's hard to come across one that's really detailed and that highlights all of the tiny lanes and alleyways that snake across the souks.
That's why an electronic map is often times more useful as it pinpoints exactly where you are and which way you're heading.
Side note: If you're not too keen on paying for data roaming, you can easily cache Google Maps – this way, you can use it whenever you aren't online.
That said, you'll need to download the Google Maps app and have Wi-Fi to set it up. Thereafter, simply go to the area you want, type 'OK maps' and the app will automatically save all the details for that particular area.
You can also grab the Marrakech Riad Travel Guide app – it's completely free and gives you a GPS map of the souks. The app is designed to work offline too, which is a huge plus.
Keep in mind you can still get lost though!
Look, regardless of how good your map is, you might still find yourself off track at some point and get lost in the Marrakech souks.
If this happens, don't panic.
There are sign posts every now and then that point you in the direction of the main square. So if you follow them, you'll eventually arrive at Jemaa El-Fnaa where you can then adjust your way accordingly.
If you don't see the signs, simply continue down an alleyway that's busy and full of activity – and after a while, you're bound to reach the walls of the medina.
You can also keep your eyes peeled for any major landmarks like the imposing tower of the Koutoubia Mosque or the Marrakech Museum to help get back your bearings.
4. Always request permission when taking photographs 
This is actually one of the most important pieces of advice you've got to keep in mind when visiting Marrakech.
Many people don't like tourists happily taking snaps of them without a care in the world – it's considered rude and an invasion of their privacy.
However, some don't mind and will happily pose, provided you ask for their permission beforehand.
Avoid taking pics of animals in the marketplace and in the main square – you'll be expected to pay a small fee.
5. When it comes to bargaining… 
…don't inquire about the price of an item unless you're actually considering purchasing it.
And if you do decide to buy it, take your time and ensure you're getting the best price possible.
Furthermore, never reveal what your budget is or what you're willing to pay upfront.
And always always make your first counter offer ridiculously low.
So if a stallholder says that he's willing to give you a leather bag for 600 MAD, you'd offer to buy it for around 50 MAD. And then you can gradually keep increasing it by 25-50 MAD.
The idea here is that when you start really low, by the time you arrive at a final rate, it'll still be within your budget.
Also, remain friendly and calm while bargaining – getting impatient and frustrated will only blow your chances of snagging a great deal.
What if you'll fail to reach an agreement?
Then say a firm but polite 'La, Shukran' (or 'No, thank you') and walk away.
Now…
If the thought of going through the bargaining process fills you with dread, there are a number of stalls that have fixed prices for many goods.
In this instance, you could request a discount (esp if you're purchasing multiple products), but if it's turned down, just go ahead and pay the fixed price.
Btw, I've seen some folks haggling hard to try and bring down the price of fixed rate items.
Please don't do this.
It only irritates stall holders who think you're a cheapskate looking to scoop up rock bottom prices on high quality products they've worked hard to craft or source.
Also, it's worth remembering that while the cost of living in Morocco is a lot lower than many other countries, at the end of the day, people here need to make a profit if they're to continue running their businesses.
So yes, by all means grab some great bargains, but also make sure you the price you're paying for an item is fair to the vendor too. 🙂
6. Practice your Arabic 
Let's face it:
The more 'touristy' you look and sound, the higher the prices you'll be charged when out and about.
That's why having some knowledge of the local language always helps.
In Marrakech, learning a few simple phrases in Arabic is a great way of making yourself look like a seasoned traveler who is familiar with how everything works there.
For instance, a polite 'La, Shukran' will often times be way more effective than 'No, thank you,' when trying to dissuade persistent sellers.
7. Hire a tour guide 

Want to get a more intimate, insider view of the souks in Marrakech?
Do you want to explore off the beaten paths and maybe even meet some of the skilled craftsman?
If so, it might be a good idea to sign up for a souk tour.
This is especially handy if you're only planning on spending a short time in the red city and don't want to spend half of it getting lost in the markets.
Side note: You're bound to come across plenty of young men and kids who will be eager to act as your guide and show you around.
However, many of them are unlicensed and will usually overcharge you or take you to their close friends' shops (for which they receive extra commission in return), rather than show you around the best places.
Instead, stick to a licensed guide or ask the staff at the hotel or riad you're staying at for their recommendations.
You could also opt for a specialised souk tour – there are loads of interesting options and many of them include visits to local artisan workshops as well as craft co-operatives.
8. Keep calm and carry on
Exploring the souks in Marrakech for the very first time can be pretty darn overwhelming.
But the best way to enjoy it is to relax, remain calm and just embrace the madness. 
Soak up the atmosphere and don't take all of the haggling and shouting by sellers too seriously – most of the time it's done in a lighthearted manner, so make sure you keep your sense of humor with you. 🙂
So there you have it – the ultimate guide to exploring and shopping in the amazing souks of Marrakech!