Are you going to travel to Marrakech?
Wondering what to see and do once you get there?
Well, the good news is there are plenty of things to keep you busy in this glorious city.
What's more, there's something here for everyone!
And often times, first on the list of must-visit places is the…
Jardin Majorelle – One Of The Top Attractions In Marrakech
It's located outside of the chaotic medina and you're probably going to need a cab to get to the place, but this garden is a lush green oasis in all the craziness outside – and a massive favorite of many visitors.
Not a huge fan of plants and flowers?
You'll want to come here anyway.
Because also on site, housed in a lovely little art deco studio, is the Berber Museum which showcases the rich history of the country's native inhabitants through nearly 600 fascinating artefacts.
What's that I hear you say?
You're not really into history, either?
No worries.
You'll still want to check out this place because it's so picturesque.
Which means loads of photo opportunities for the budding photographer or the avid Instagrammer. 🙂
If anything, you can tell folks you've been to one of the Top 10 tourist attractions in Marrakech.
Majorelle Garden – In A Nutshell
While the garden consists primarily of cacti, there are just over 500 amazing plant species from all over the world to view and admire.
In addition to this, there's a small bamboo forest, lovely orange groves ripe with fruits and plenty of beautiful palm trees.
But what makes the Jardin Majorelle truly stand out is its eye-popping blue architecture.
It's absolutely electrifying!
Furthermore, the Berber Museum here is one of the country's most wonderfully curated museums and its impressive collection includes religious trappings, intricate woodwork, colorful textiles, traditional dresses, expert metal and leather work and musical instruments.
With that said…
Let's Delve Into The History Of This Exotic Garden
In 1923, French painter Jacques Majorelle purchased a 4-acre plot of land just outside of the medina in Marrakech. As as his career as an artist grew, he was able to build a house, a magnificent villa and even a small studio.
His success soon enabled him to start focusing on one of his other passions – that of an amateur botanist.
And for nearly 40 long years, Majorelle painstakingly cultivated 135 different plant species from across 5 continents and transformed his entire property into an enchanting garden full of coconut trees, palms, bougainvillea, cactus, bamboo, white water lilies, banana trees, jasmine and more.
In addition to installing beautiful pools and fountains, he added even more color to the surroundings by painting all of the buildings on the land in his very own shade – the now iconic, intense blue color that he trademarked as bleu Majorelle (Majorelle Blue).
Tragedy Strikes
The cost of maintaining the garden was gradually rising so in 1947, Jacques opened it to the public to help alleviate the burden of running everything himself.
Not long after this however, things took a turn for the worse for the painter.
In 1956, he divorced his wife Andree Longueville and had to split the property with her. He was then involved in a serious car accident, which eventually led to having his left leg amputated.
The operations were expensive and had a negative impact on his finances, which prompted Jacques to sell off his share of the gardens and villa.
He traveled back to Paris for further treatment, but on October 14, 1962, he passed away after developing numerous complications from his injuries.
Unfortunately, the condition of the Jardin Majorelle rapidly deteriorated during this period.
4 Years Later…
Things started improving when famous French fashion designer Yves Saint-Laurent and his business partner Pierre Berge purchased it and swiftly set about restoring the garden to its once glorious state.
They went to great lengths to maintain the original vision of Jacques Majorelle and oversaw a massive restoration project.
They hired a team of 20 gardeners to tend to the plants, had automatic irrigation systems installed and boosted the number of plant species from 135 to 500.
The end result?
Not only did their combined efforts succeed in bringing back the garden to life, it embellished the beauty of it even further.
Final Thoughts On Jardin Majorelle – Among The Top 10 Tourist Attractions In Marrakech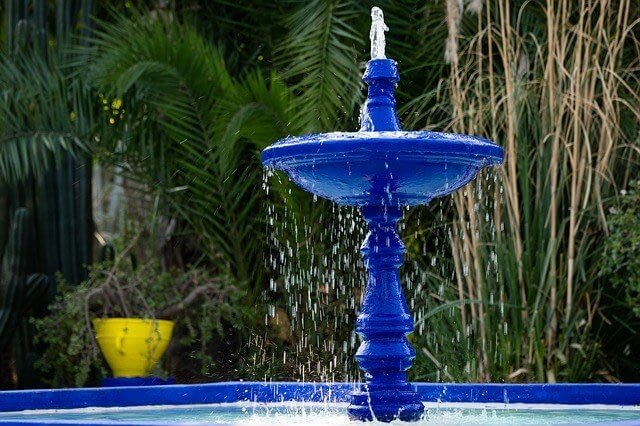 If you're traveling to Morocco, do try and make it a point to visit Jardin Majorelle.
In addition to being an excellent garden to view and explore, it's a great place to unwind and regain your bearings, away from the hustle and bustle of the medina.
And before we wrap up this post on one of the top places to visit in Marrakech, here are some useful tips to keep in mind before coming here:
Tip #1: Try and go as early in the morning as possible (when the place opens for the day) or later in the evening (towards closing time), in order to avoid the crowds. The fewer visitors around, the better your experience!
Also, purchasing a combined ticket gives you access to the Berber Museum and the Yves St Laurent exhibition, in addition to the garden.
Tip #2: Avoid ordering food/drinks at the cafe in the garden – they're extremely pricey.
Instead, it's a better idea to head over to any of the cafes located across the street. Kaowa (sometimes spelled as 'Kawa') is a pretty good option – try the Top Vitamine or Frappe Citron.
Tip #3: Skip the taxis waiting outside to take you back to your accommodation. They'll quote you a higher rate.
Instead, for a cheaper fare, exit the Majorelle Garden and take a right turn towards Gueliz. Flag down a taxi and make sure they've got the meter turned on, so you're getting a fair and reasonable rate.
With that said, enjoy your time at one of the Top 10 attractions in Marrakech!