Want to know the best restaurants in Colombo?
Well, you've landed on the right page.
The food scene in SL is absolutely thriving and you'll find a wide range of eateries to suit every taste and budget.
Unfortunately, most articles online tend to highlight the ones where tourists generally flock to.
In my experience, if you really want to sample the authentic cuisine of a country, you've got to observe where the natives head to for their meals.
Side note: Taking a cookery class is a great hands on way of experiencing local cuisine and is in fact, is one of the best things to do in Colombo!
That's why I've compiled a list of little known (to most tourists that is) local hotspots for you that you're not going to come across in other similar articles online.
So without further ado, here's where to eat in Colombo…
13 Best Restaurants In Colombo – Where The Locals Hang Out
> New Banana Leaf
A local favorite and among the best places to eat in Colombo, this eatery is well known for their signature dish – tandoori chicken coated in a special in-house sauce and cooked to perfection.
It's absolutely delicious and quite different from the usual chicken curries served up by other restaurants.
We ordered takeaway lunch from here and I opted for their rice parcel with fish. It came with a substantial portion of rice, a sizeable piece of fish, dhal, spinach, beans and an eggplant curry.
Everything was well prepared and tasted great.
Hubby had their rice and chicken.
Again, it came with a generous amount of rice, salad, a boiled egg, a potato and green peas curry, chilli paste and a large chunk of chicken.
And while the rest of the components were cooked perfectly, the real star was the chicken – it was juicy and tender and absolutely delicious!
Side note: We heard they also do an excellent prawn biryani.
> Street Burger
First off, the burgers here are generally pricier than the ones offered at other places.
But the quality of their food is good and they've got some rather unusual flavor combinations listed on the menu (which is why I was keen on trying them out in the first place).
There are 2 floors where you can dine in (including a small outdoor seating area at the entrance), but we preferred to order takeaway for dinner.
Hubby had the Nitrous Burger which he said was tasty without being extraordinary.
The filling consisted of a juicy char grilled chicken breast, flavorful chicken strips, melted cheddar, salad and in-house special sauces.
He also said he would've preferred a bigger sized burger, especially since they don't provide fries.
You have to buy that separately as an add-on, which is a bummer actually 'cause you normally get free fries with your burger, right?
Anyway, on to my choice – the High Voltage Beef Burger.
Yeah, the name alone is enough to excite you, but how does it taste?
Well, to put it simply, it's an explosion of flavors!
In fact, this is probably one of the best burgers I've ever tasted.
The deliciously soft bun is slathered in special spicy in-house sauces and holds together a chunky, super flavorful beef patty, sliced habanero peppers, sliced jalapeno peppers, salad and melted cheddar.
Yum.
This dish truly lives up to its name alright.
Side note: You'll definitely want to order a sweet beverage (their Passion Fruit Mocktail and Iced Milo are both good) if you plan on trying this, 'cause the heat is real.
Actually, at first, you won't even really feel the spiciness because you'll be so busy demolishing this fantastic burger. But once you've polished off everything, that's when it kicks in and hits you like a freight train.
And trust me, you're going to be super grateful you've got that ice cool drink nearby!
> Ministry of Crab
If you're looking for the best seafood restaurants in Sri Lanka, you'll definitely want to drop by this place.
Founded by Kumar Sangakkara, Mahela Jayawardana (two popular national cricketers) and Dharshan Munidasa (a renowned local chef), the Ministry of Crab in Colombo is a celebration of the island's legendary lagoon (mud) crab and is one of only two Sri Lankan restaurants featured in Asia's 50 Best Restaurants List.
They specialize in offering different variations of the humble crab and some of their famous dishes include Pepper Crab, Ginger Steamed Crab and Garlic Chilli Crab.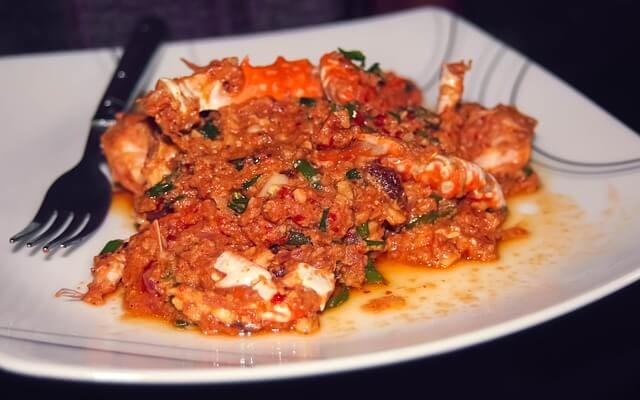 We tried the latter and it was absolutely scrumptious.
Quite possibly the finest crab dish I've ever tasted!
Diners can also feast on other seafood such as clams and king prawns and a bunch of other side dishes – all of which are cooked to perfection and taste fantastic.
Side note: While the food is delicious, it can also be quite pricey, so please keep this in mind before making a reservation.
Address: Old Dutch Hospital, Hospital Street, Colombo 1
> Seafood Cove
Seafood Cove is Mount Lavinia Hotel's popular seafood restaurant.
They're known for their delectable dishes, fast service and great ambience.
You choose from a large selection of fresh seafood laid out on ice. Everything's then weighed and prepared the way you'd like.
I opted for lobster in devilled sauce (it was yummilicious) and hubby had fresh king prawns cooked in a garlic butter sauce (also fab).
Simply put, if you're a seafood lover, this place is a must-visit!
Address: 100, Hotel Road, Mount Lavinia
> Beach Wadiya
Want to dine at a restaurant that counts royalty among its clientele?
Then make a beeline for Beach Wadiya – a cozy little beach side spot that's renowned for serving up delicious seafood.
There's no fancy schmancy menu here – you simply choose from the catch of the day. This means you're pretty much guaranteed the freshest seafood available.
I recommend trying out the hot buttered calamari. It's outstanding!
The grilled jumbo prawns, devilled crab and seafood rice are also lovely.
Side note: You have to cross railway tracks to get to the restaurant, so please be alert and watch out for any oncoming trains.
Address: Marine Drive, Colombo 6
> Hotel de Pilawoos
Best known for their cheese kottu which is arguably the finest version in the city.
Consisting of sliced up Godhamba rotis, melted cheese and a delicious variety of spices and other fillings (veggies and eggs mainly), this dish may not sound that appetizing to some, but it sure as hell packs a lot of flavor!
In fact, it's widely known as one of the most popular Sri Lankan dishes, so you should definitely give it a try.
Address: 417, Galle Road, Colombo
> Malay Restaurant
Ah, an oldie but goodie.
They have a wide range of dishes to choose from and at very reasonable prices too.
The biggest plus point however is the portion sizes, which is simply massive.
During our holiday in Sri Lanka, we dined here once and ordered takeaway twice.
They have 2 floors exclusively for dining in and while customer service can be slow, the meals we had were superb.
Side note: We went with a few friends and we were more focused on catching up with one another, so didn't really have an opportunity to snap pics of the food!
But what we ordered – chicken biryani, hot butter cuttlefish (they do this brilliantly, btw) and butter naans – were all excellent.
We ordered takeaway on two separate occasions.
For lunch, we had Lamprais which was really tasty and filling.
And for dinner the next day, we ordered fried chicken kottu.
This was just meh though.
Pretty surprising as Malay Restaurant used to whip up yummilicious kottu rottis in the past.
Anyway, if you want some good chow at wallet-friendly prices, this place is a good option.
> Dinemore
In the mood for some local fast food?
Then pop by the Colombo 6 branch of Dinemore – a hugely popular joint that specializes in subs and burgers (although they do serve up sandwiches, fried rice and a bunch of other side dishes too).
Their spicy chicken tandoori submarine in particular is a massive hit amongst diners.
Side note: Always head upstairs. It's much more spacious and provides lovely views of the ocean.
Address: 39, Boswell Place, Colombo 6
> Nelum Flower
If you're wondering where the best rice and curry is in Colombo, look no further.
These guys serve up awesome traditional Sri Lankan food at very reasonable prices – and they're so popular, they usually run out by by late afternoon.
Everything's prepared fresh and there's an amazing selection of dishes to choose from including fish, crab, cuttlefish, and chicken cooked 3 ways. Several set menus and loads of veggie options are available too.
If you're keen on getting your rice and curry fix, Nelum Flower fits the bill perfectly, so definitely give it a go.
Side note #1: They have limited dine in options, so I'd suggest grabbing takeaway.
Side note #2: Try their white rice with crab curry – it's fantastic.
> Burger Hut
This restaurant specializes in delicious burger buns and submarines (check out the photos) – perfect for a quick lunch or dinner.
They cook up a bunch of other stuff as well, but feel free to skip it – they're pretty sub-standard and totally not worth the money.
And while you can dine in, we opted for takeaway and ordered 2 spicy chicken subs for lunch.
The buns were fresh and lightly toasted and the filling – consisting of grilled tandoori chicken pieces, a spicy onion and capsicum mix and mayo – was really good. The accompanying french fries were crisp and well salted.
All in all, it was a satisfying meal!
> Elite Restaurant
This place is busy during weekdays and jam packed during weekends.
And for good reason too.
Their food is smashing and reasonably priced (especially their rice dishes and set menus), which means they get loads of repeat customers.
We dined here on three different occasions and the meals were excellent every single time. In fact, they were so tasty, I completely forgot to take some snaps of the food until it was too late! So you'll have to feast your eyes on just the one pic, which features their Elite special mixed fried rice and black pepper chicken.
Side note: If you're a seafood fan like I am, try the Elite special Kerala fish curry and Elite special prawn curry – both dishes are outstanding (esp the former) and go very well with butter naan.
> The Sizzle
The unique feature of this restaurant is that everything is served sizzling hot, even the desserts and drinks! And while the food here can be a tad expensive, it's delicious and generally of a high standard.
The service too is usually top notch, which is another plus point.
Side note: Their sizzling desserts are a huge hit with customers, so make sure you order some. 🙂
Address: 32, Walukarama Road, Colombo 3
> Bilal Restaurant
If you want to savor hoppers, string hoppers and curry for dinner, this is a good place to order from. They have a few tables inside for dining in, but takeaway is a much better option.
We had hoppers (plain and egg) and parathas along with babath (tripe) curry, beef curry, chicken curry and dhal.
And although the curries were nothing to write home about, they weren't disappointing either – just decent.
The hoppers on the other hand, were lovely and crisp and the parathas soft and well made.
The entire meal didn't cost us much, so in terms of value, this was actually pretty good.
Address: Hospital Road, Dehiwala
Best Rice and Curry in Colombo
There are quite a few places that do really good rice and curry parcels in the city.
Nelum Flower, Malay Restaurant, New Banana Leaf and Elite Restaurant are all excellent choices, but I'd be tempted to go with the first option simply because they have an incredible variety of dishes to choose from.
Plus, the fact that they tend to sell out by late afternoon is a good indication of Nelum Flower's popularity amongst locals.
So if you're looking for cheap places to eat in Colombo that offer fantastic rice and curry, I'd recommend stopping by here – just make sure you arrive early!
Halal Restaurants In Colombo
Muslim visitors need not worry about finding halal restaurants in Colombo.
Apart from the majority Buddhist population, Tamils, Christians and Muslims also live here and you'll come across plenty of eateries catering to all communities.
With that said, most of the places listed in this article serve halal food, so enjoying some delicious meals while on holiday in SL shouldn't be a problem.
In terms of lunch options, New Banana Leaf and Nelum Flower serve up some of the best food in Colombo, while Street Burger and Elite Restaurant are great spots for dinner.
Cheap Restaurants In Colombo
So there you have it – 13 of the best restaurants in Colombo that all offer great food at wallet-friendly prices.
We've either dined or ordered takeaway from all of the eateries listed here and enjoyed our meals immensely.
Hopefully, you do too!