Please note:

This page will be constantly updated as we visit new places, so don't forget to bookmark it!
Keen on exploring Old Blighty without denting your wallet?
Well, you've landed on the right page. 🙂
As you keep scrolling, you're going to discover 11 of the best free attractions in England including some hidden gems that are rarely featured in travel publications online.
And for your convenience, I've separated this article into 2 sections – parks/gardens and museums.
Just click on the link that interests you.
Free Parks and Gardens You Can Enjoy
> Bushey Rose Garden
If you're looking to escape the hustle and bustle of city life and bask in peaceful tranquillity, you'll love what this wonderful little haven has to offer.
The scenery here is beautiful (even more so during the summer when the flowers are in full bloom) and the atmosphere calming and relaxing.
This garden offers a delightful glimpse into the early 20th century and is divided into 3 segments:
The Rose Walk (a pathway lined with rose pillars and mixed borders)

The Sunken Garden (a sunken area with rose beds and a fountain in the middle)

The Lawn (a spacious lawn surrounded by mixed borders)
There's also a small summer house that features a mini exhibition showcasing the history of the gardens and the lives and careers of Sir Herbert von Herkomer (the famous Victorian artist) and Thomas Mawson (a garden designer and landscape architect).
Admission is free of course.
Also, while there's no car park at the site, there's a free public parking spot a little further down the High Street off Kempe Place.
When we visited, we managed to find a parking spot down Melbourne Road, a short walk away from the main entrance.
Btw, since the garden is located on the High Street, it's really easy to miss, especially since there's only one sign at the gate and no other signs pointing to it.
So it's probably a good idea to slow down when you're approaching the place – this way, you won't miss it like we did!
> Forty Hall Estate
Forty Hall is an impressive Grade 1 listed Jacobean Manor House set amidst a spacious and picturesque landscape. 
Built by Sir Nicholas Rainton (the Lord Mayor of London in 1632), its rooms are now decorated with period furniture and plenty of interesting memorabilia that give a glimpse into the history of the house as well as an insight into the life of its original owner. 
Facing the house is a lovely pond which is home to a large community of ducks.
Additionally, there are several excellent walking trails of varying lengths from longer ones that take an hour or two to complete to much shorter ones that can be completed pretty quickly. 
And while the house is free to visit, there's an entrance fee of £2 if you want to check out the adjoining forty hall farm. 
Also, the car park here is fairly large and parking is completely free, which is always a good thing! 
I'd definitely recommend coming here as it's one of the best free attractions in England. 
> Myddelton House Gardens 

"It's hard not to be enchanted by the intimate atmosphere of Myddelton House Gardens," says Head Gardener James Hall and I couldn't agree with him more.
The lifelong home of one of Britain's most influential and famous self-taught gardeners, Edward Augustus Bowles, this is one of my favorite places to visit when I want to enjoy some quiet time. 
Beautiful and well maintained, the 8 acres of gardens feature several National Collections, a brilliant range of unusual plants, lovely glasshouses, a rock garden and rock pools, an alpine meadow and a wonderful vegetable and cut flower garden.
Also on display are several interesting follies collected by Mr. Bowles.
And while parking costs a very reasonable £2.50, you can also find free parking spots on Turkey Street (located right opposite Myddelton House Gardens), depending on the time of day. 
Side note: If you're looking for places to visit near Enfield or in Enfield, this one ticks the box. As an added bonus, Forty Estate Hall is just a short distance away so you may want to combine the two in one visit. 
> Rickmansworth Aquadrome Nature Reserve 
This vast local nature reserve covers 41 hectares and is home to multiple lakes, lovely wooded walks, green open spaces, easy access surfaced pathways, excellent play areas and a very good cafe. 
Let's talk a little bit about the lakes of which there are three.
The first is Batchworth Lake.
During most weekends, you'll find an active water skiing centre based on the lake, so if you're a water skiing enthusiast, this is where you'll want to come. 
The second lake, Bury Lake, is right next to Batchworth and is a lot quieter as powered water sports are not allowed here, only sailing. Btw, if you're a bird watching enthusiast, you may want to bring your binoculars along – the area is home to an abundance of birds, both resident and migratory. 
Stockers Lake is the largest of the three lakes and is an absolute haven of peace and tranquillity. It's also a recognized nature reserve where you'll be able to observe plenty of rare species of native and migrating birds.
Side note: Rickmansworth Aquadrome is a fairly massive area which means you can easily spend an entire day here.
You could kick things off by enjoying a leisurely walk around all 3 lakes. Then either chillax at the cafe or stop by the large outdoor play area next to Batchworth Lake (if you have kids). This could be followed by a spot of birding (if you're into it) or some sailing (if you're into water sports).
Finally, use the Grand Union Canal Townpath for a nice long walk back to the car park. 
Free Museums You Can Check Out
> Oxford University Museum of Natural History 
This is a fab museum for young and old with lots to see and enjoy.
First off, there are several touch and feel areas which is great because it really enhances your experience and makes it come alive.
Secondly, if you're a dinosaur lover, you're going to love this place.
There's a massive T-rex skeleton which is absolutely awesome and plenty of other smaller dinosaur skeletons that are also interesting to look at.
All of the exhibits are clearly labelled and the reconstructions of these majestic prehistoric creatures are simply excellent. 
The collection of insects and birds here is also impressive.
Additionally, there's a remarkable display of sea shells that's well worth checking out, especially if you're a collector of sea shells. 
The museum also has plenty of interesting trails for children to explore. Our little one picked one where he had to find certain birds (which he thoroughly enjoyed doing by the way) and was rewarded with a cool sticker at the end. 
Finally, the staff here are friendly and welcoming and there's a nice cafe upstairs that serves some good food, although the prices can sometimes be a tad pricey.  
Side note #1: A few of the animal exhibits can be touched like the two bears at the entrance.
Side note #2: While parking isn't free, there are plenty of parking options available for a fee. However, if you're coming here on a Sunday, you can park from 11 AM – 7 PM outside on single yellow lines for FREE. 
Side note #3: Adjoining the Oxford University Museum of Natural History is the Pitt River Museum which is packed with tons of fascinating objects from all areas of human history from shrunken heads to tools and from clothing to art. Well worth a visit.
> RAF (Royal Air Force) Museum – Colindale 
If you're an aviation fan (or even if you aren't) and are looking for free things to do in London with kids, pop in to the RAF Museum at Colindale for one of the best days out in London.
A national museum that celebrates the story of the Royal Air Force, it boasts a phenomenal selection of planes (several models are rare and cannot be found anywhere else) and offers plenty of excellent interactive experiences that provide visitors with a terrific insight into the history of fighting aircraft. 
The museum is split into six hangars –  H1 to H6.
H1 showcases RAF stories covering the first 100 years.
The collection here is pretty interesting and there are tons of info boards with lots of interesting details about the items on display.
That said, our favorite exhibit in this section has got to be the Short Sunderland.
Positioned right next to the cafe, it's a massive British flying boat patrol bomber that's quite impressive to look at. The best part is you can walk inside and explore its interior (audio commentary is available too), which for me, was a pretty cool experience!
Side note: If you're claustrophobic, you might want to skip this because there isn't a lot of room to manoeuvre.
In Hangar 2, you'll find a great collection of First World War exhibits.
H3 and H4 house mainly Cold War and World War 2 aircraft.
And while the lighting is superb and allows you to have a good look at the air planes, the layout can be a tad frustrating thanks to the red rope that prevents you from viewing them from some angles. It's not a big deal though.
Coming over to H5 – the bomber aircraft hangar.
The exhibits on display here are simply fabulous.
From the Bf 110, Heinkel  He162, Stuka (Junkers Ju 87) and the Boeing B-17 to the Vulcan, B-25 Mitchell, Mosquito and Lancaster, they have it all. We just couldn't view them properly due to the poor lighting in this section. Such a pity…
Hangar 6 also has an excellent display of planes ranging from the 80's to the present. The Buccaneer is particularly impressive as it's still in its worn Gulf War 'Desert Pink' camouflage.
Moving on…
There are several interactive exhibits to keep you entertained and you also have the opportunity to sit in a genuine Spitfire, which is really fun.
Additionally, there are some imaginative and exciting 4D experiences you can enjoy, although we didn't get a chance to check them out on the day we visited.
If you have kids, the good news is there's a lovely little children's area outside and plenty of open space for them to run around and have a blast! 
And while entrance is FREE, there's a very reasonable charge for parking and you pay on your way out. 
To summarize, if you're looking for free places to visit in London and want a fun day out, the RAF museum is a must visit.
> Natural History Museum – London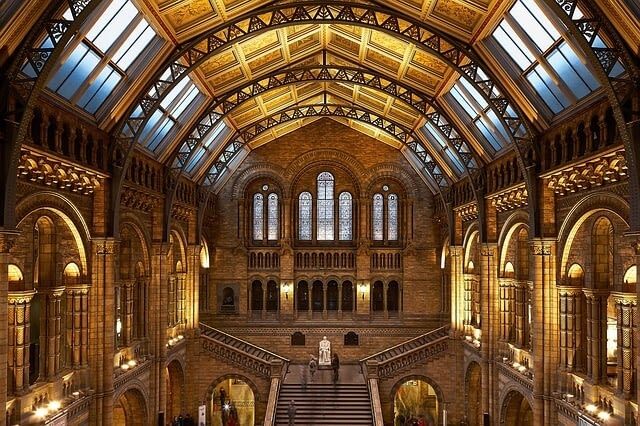 The Natural History Museum is a magnificent site indeed – beautiful, cavernous and an absolute feast for the senses.
There's so much to do and see here that you'll easily need a minimum of 3-4 hours, making it the perfect spot if you're interested in free London attractions for families. They've got something for everyone from history buffs to 'just looking' folks and both kids and adults are guaranteed a good time.
Inside the museum is an extensive range of fun, informative and interactive exhibits covering all aspects of natural history including fossils, skeletons and stuffed animals.
And the massive skeleton of the blue whale suspended from the ceiling is as iconic as its predecessor (the incredible dinosaur skeleton that used to greet visitors as soon as they stepped into the main hallway).  
Side note #1: Dinosaur fans can look forward to discovering tons of fascinating specimens along with interesting details about them. Also, don't forget to check out the large animated T-rex – it's a big hit with visitors. 
Side note #2: There's an exciting new addition to the museum – an earthquake section with a pretty cool escalator. You can experience an earthquake, do a bunch of fun experiments, check radiation levels in one of the stones and even touch meteorites! 
Side note #3: While the treasures inside the museum are not to be missed, the building that houses them all is also a thing of beauty – the Victorian architecture is simply stunning.
Side note #4: Try to visit early morning before the vast majority of tourists/school crowds arrive. 
Bottom line:
The Natural History Museum is hands down one of the best places to visit in London for free, so do make the time to drop by here.